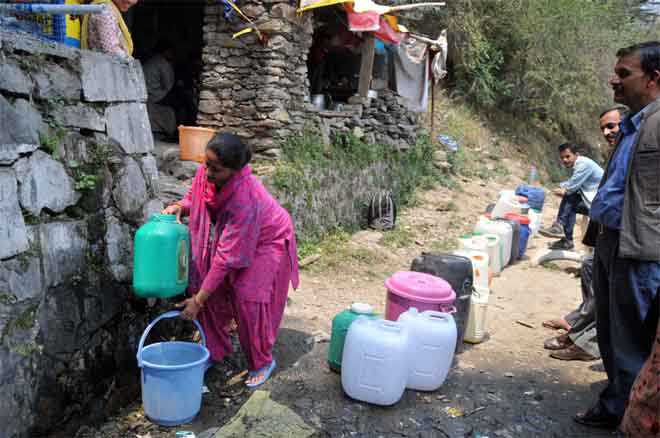 The Queen of Hills is thirsty. Shimla faces a major shortage of water, much to the ire of the residents and the tourists who are making a beeline for one of the country's most famous summer retreats. The immediate response of the local authorities, including the Municipal Corporation, should be to immediately arrange for more than double the number of tankers and make whatever supplementary arrangements that is necessary to alleviate the situation. There is little doubt that the state government and various bodies responsible for water management have failed. The shortfall from the feeder streams should have been taken into consideration and arrangements made much earlier than at the peak tourist season when the town is bursting at its seams.
Indeed, Shimla has become an urban jungle which is crumbling under the weight of "development". The National Green Tribunal had issued an order that banned new construction activity in the green, forest and core areas. Indeed, the NGT order was comprehensive and took into consideration a number of urban development parameters, but its implementation is in the hands of the local and state authorities. As expected, the powerful builders' lobby has not been inactive, since the NGT order hits directly at its interests.
The infrastructure that pipes in water into various facilities is old and decaying. It is not too long ago that there was a case of sewerage water contaminating drinking water in the state capital, thereby leading to widespread illness among residents. Politicians tend to devote themselves to visible projects. Fixing the water supply is vital, time consuming and expensive. The ageing infrastructure must be modernised and leaks plugged. This would need a large budget allocation as well as perseverance. But with the same party at the helm both in the state, the Centre and the corporation, this should not be an issue. Water is a basic need, the government that fails to provide it to its citizens is failing in its fundamental duty. The new state government must not be seen as fumbling so early in its tenure.
Top News
Had complained to PM Modi about the activities of Brij Bhush...
Section 124A of the Indian Penal Code dealing with sedition ...
The postings and transfers of the officers have been made on...
Singh, in a Facebook post, said he has postponed the 'Jan Ch...
The representatives of various khaps and farmers' outfits re...