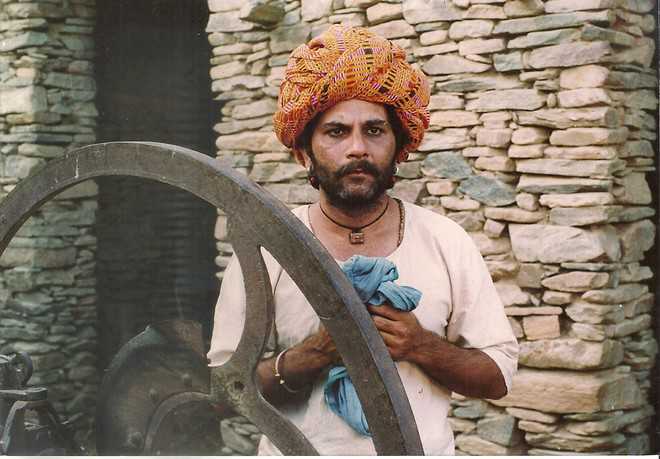 Saibal Chatterjee
Pavan Malhotra isn't a household name. But that is no reflection on the sterling quality of the work the gifted but self-effacing 57-year-old actor has done in a career spanning three decades. A retrospective of six of Malhotra's most feted films was held this month at the India International Centre in New Delhi – a rare honour for a fearless actor, who has never compromised with his chosen creative credo. Barring stray commercial films like Pardes (1997), Badmaash Company (2010) and Bang Bang (2014), Malhotra has largely confined himself to the non-mainstream cinema space.
"I've been lucky," he says, "to have worked with fine directors who have given me a wide variety of roles. Over the years, I've seen dips and setbacks but have carried on regardless." Starting out as a wardrobe department hand in Richard Attenborough's Gandhi, he went on to work with directors like Roland Joffe, Shyam Benegal, Buddhadeb Dasgupta, Saeed Akhtar Mirza, Deepa Mehta and Goutam Ghose.
"Patience is the key for an actor like me," he says. "I have waited for the right roles. I have never gone looking for work. With the exception of Saeed Akhtar Mirza, I knew none of the directors who cast me. It is only my work that got me more work." Since the late 1980s, Malhotra has been part of numerous celebrated off-mainstream Hindi films (Salim Langde Pe Mat Ro, Bagh Bahadur, Antarnaad, Black Friday, Tarpan, Road to Sangam) as well as one of the best television serials ever made in India, Nukkad. Of late, of course, his popularity has hinged on Imtiaz Ali's Jab We Met and Rakeysh Omprakash Mehra's Bhaag Milkha Bhaag.
In the former, he was the heroine's uncle, while in the latter he was cast as Milkha Singh's coach in the legendary athlete's formative years in the army.
Although critically acclaimed for his physically challenging 'tiger dancer' act in Buddhadeb Dasgupta's Bagh Bahadur (1989), he made a name for himself playing Mumbai underworld characters. In Saeed Akhtar Mirza's Salim Langde Pe Mat Ro, he played Salim Pasha, an alienated Muslim youth trapped in the world of crime.
In Bhindi Bazaar, he was a pickpocket who rises through the ranks to become a don. And in Anurag Kashyap's Black Friday, he was cast as Tiger Memon, the mastermind of the Mumbai serial bomb blasts. Always mindful not to repeat himself, Malhotra has never been typecast. "The underworld don in Black Friday is not the same as the criminal in Bhindi Bazaar," he points out.
"Similarly," he adds, "the sardarji in Jab We Met is poles apart from the sardarji in Bhaag Milkha Bhaag."
The Punjab setting of Jab We Met and Bhaag Milkha Bhaag seems to have altered the course of Malhotra's acting career. Malhotra, who also has as many as four Telugu films and the critically acclaimed British drama Brothers in Trouble (1995) behind him, has now turned his attention to cinema in his mother tongue, Punjabi.
His very first Punjabi-language film, Punjab 1984, like Bagh Bahadur and Salim Langde…, won a National Award. He then donned the garb of Pingalwara's Bhagat Puran Singh in Eh Janam Tumhare Lekhe. He has three more Punjabi films in various stages of production: Zorawar, in which he shares screen space with Honey Singh; Once Upon a Time in Amritsar, which marks singer Dilpreet Dhillon's acting debut and Gelo, adapted from the Ram Sarup Ankhi novel of the same title. "Punjab has no dearth of talent and stories," says the Bollywood actor. "Working in films in my own language gives me a high."