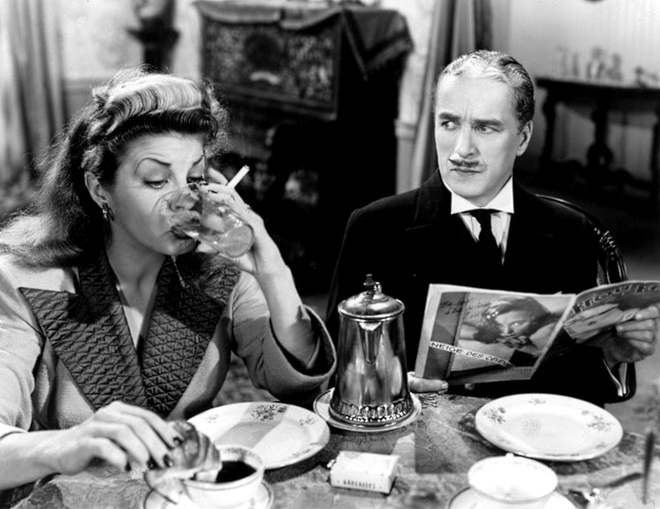 Salil Desai
Murder is the last thing that comes to mind when we think of Charlie Chaplin! His whole persona is associated with rib-tickling comedies — right from the innumerable silent shorts in which he played the loveable, pugnacious tramp to his classic parodies and satires like The Great Dictator, Modern Times, The Kid and City Lights.
Yet, surprisingly, Chaplin also made a black comedy on murder titled Monsieur Verdoux, about a serial killer. The original idea came from another cinematic genius, Orson Welles. Made in 1947, Monsieur Verdoux is loosely based on the career of the French bluebeard, Henri Landru, who married and killed several women for money. Set in the volatile 1930s, Chaplin portrays Monsieur Verdoux — a dapper, 50-year-old French bank clerk, who turns to murder 'strictly as a business enterprise', after he is sacked from his job during the Great Depression, to support the only two people in the world he truly loves — his handicapped wife and infant son.
His modus operandi is to woo middle-aged, wealthy single women — spinsters, widows, lonely hearts — in different parts of France and then do away with them, after getting his hands on their money and property. What is particularly watchable about the film is the treatment of a subject like serial killing, handled with a deft combination of seriousness and levity — a very difficult balancing act.
Chaplin is splendid as the diabolical, cynical, world weary, yet strangely gentle, Monsieur Verdoux, who juggles his different marriages and manipulates his various wives, hoping to dispose them off swiftly. One sequence, in which he desperately makes different attempts to murder one of his wives, first by poison, then by drowning, is hilarious as things go wrong. Later, she also turns up unexpectedly at his wedding to another woman, his latest quarry, which finally finishes his career.
There are two excellent scenes, which capture the Jekyll-and-Hyde quality of Monsieur Verdoux's character. In one, he invites a homeless, young girl home to try out a new poison on her. Her story touches him and at the last moment, he stops her from taking a sip of poisoned wine and gives her some money. Overwhelmed, the unsuspecting girl says his kindness makes her want to believe in the world again. Verdoux's gentle but unsentimental response is, "Don't believe too much."
In the other scene, a cop confronts him at home. Verdoux offers him the poisoned wine, but when the cop declines, he pours a glass for himself, ready to drink and die. Just as Verdoux feels his game is finally up, the cop reaches for the bottle and takes two sips. Verdoux promptly relaxes and lowers his glass.
The film does drag in some bits and the last few scenes before he is executed are anti-climactic, but one dialogue of Verdoux is quite telling — "One murder makes a villain, millions a hero. Numbers sanctify!" The response to the film was lukewarm but kudos to Chaplin for this off-the-beaten-track effort. He does manage to bring home the pathos of human redundancy in a fast-changing, ruthless world — a theme even more relevant today, when job security is absent and people can find themselves unemployed overnight.
Top News
In Delhi, Congress puts up a stage outside Mahatma Gandhi's ...
Congress observing day-long 'Sankalp Satyagraha' at Delhi's ...
Says Rahul Gandhi's disqualification culmination of lawful p...
Indian Ambassador to the US Taranjit Singh Sandhu was not in...
Seeks explanation for 'security breach'