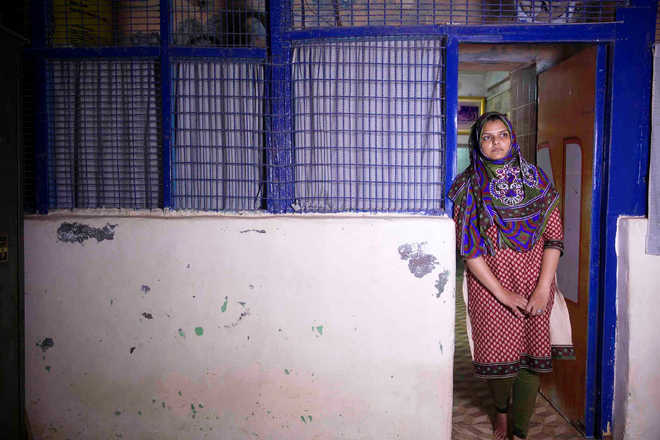 Shoma A. Chatterji
3Seconds Divorce is a 52-minute documentary made by Canada-based Shazia Javed, who came to India to make this film on a subject that is very close to her heart. It is a story derived from the instant talaq allowed by Muslim law which is followed often, by an equally damaging custom called Halala. Award-winning filmmaker Shazia Javed's docu-short Namrata was produced by the National Film Board of Canada. She was a finalist for three Alberta Media Production Industry awards. Her short Can you hear me? won the first prize at Visual Arts Mississauga's 39th Annual Juried Show of Fine Arts. She is also the winner of 2017 MARTY award hosted by the Mississauga Arts Council.
An age-old practice allows Muslim men in India to divorce their wives unilaterally by simply stating the word 'talaq' three times consecutively. The only way for a couple to live together after this is for the woman to perform 'halala'. Halala requires the divorced woman to get married to another man and get divorced again after the new marriage is consummated. "What interested me in this subject is that the entire process leaves no space for a woman's agency nor does it establish any rights for her. Frustrated with the lack of initiative from the government or religious leaders to stop this; Muslim women in India organise and start a movement to reclaim their religious and constitutional rights. How is this possible in the 21st century?" says Shazia.
3 Seconds Divorce tells this story through the journey of Lubna — a present-day activist and former victim of triple talaq, who makes personal sacrifices to continue her activism. The documentary also provides a behind-the-scene glimpse of the growing Indian Muslim women's movement as it navigates between orthodox Muslim leadership and a polarised political environment in India. The film shows the personal struggle Lubna has to go through once her husband declares talaq leaving her with her small kids without any by your leave. She takes shelter with her mother who feels Lubna is wrong in joining the movement. The film also follows the story of the Bharatiya Muslim Mahila Andolan.
"I had planned to run a crowd-funding campaign which had to shelve it because of the trolling I faced after my interview was published in a newspaper. I decided to focus my energy on making the film. I did not have the bandwidth to deal with online hate. I said all I needed to through the film." says Shazia, whose film's screening drew a full house at the MIFF in Mumbai in February this year.
An interview with the imam of Delhi's Jama Masjid, the oldest mosque, sees him defending triple talaq. He claims no one can ban it. This is the kind of patriarchy Muslim women have been set against, and on top of it, the political environment is so polarised on religious lines that they are accused of being traitors.
Shazia believes that 3 Seconds Divorce can help engage and mobilise various struggles that women — especially Muslim women — are engaged in globally for their rights.
"I hope the film gives hope and provides a model for struggle against patriarchy, legal injustice and oppression in name of religion. I hope young girls in future generations will look at this story and find inspiration to be fully engaged in the political process of their country," she sums up.
Top News
Was speaking to Indian journalists in Washington
Granthi Giani Jaswinder Singh from Pine Hill Gurdwara in New...
Heavy security deployed to deal with the situation
Head Constable Chaubey Singh, Constable Omveer Singh and Con...
The government on Friday approved the issuance of the 28th t...