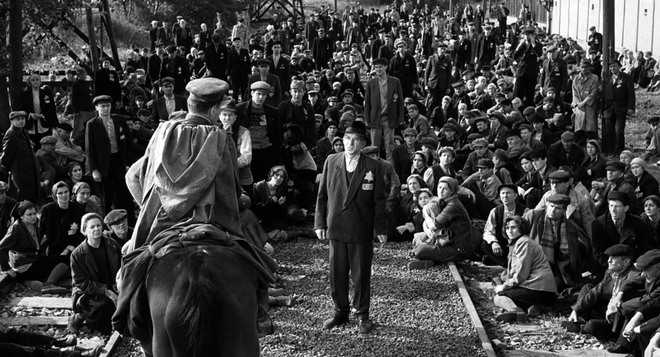 Salil Desai
The Holocaust has always been a challenging subject for filmmakers. The most horrifying puzzle directors have grappled with is the ease with which all values of humanity and civilisation were subverted by the Nazis, turning ordinary people into willing accomplices and enthusiastic executioners.
Two great filmmakers, who took a long time preparing psychologically to handle the subject, are Steven Spielberg and Roman Polanski. Spielberg wavered for a decade before making Schindler's List (1993), even offering the project to Polanski, himself a Polish survivor of the final solution. But Polanski was not ready. It took him another decade to make his own stark, brilliant film on it — The Pianist (2002).
Undoubtedly Schindler's List and The Pianist are not just cinematic gems but also piercing and moving explorations of good and evil, the randomness of chance and fate in survival and the infinitely baffling complexity of human beings in times of violence and genocide. Both are true stories.
Schindler's List, based on Thomas Keneally's novel, is a riveting depiction of the Nazi reign of terror and death unleashed on the Jews of Krakow in Poland and how an unscrupulous and flamboyant German industrialist, Oskar Schindler, transforms into the unlikely saviour of nearly 1000 Jews. Shot in black and white, the film is a masterpiece. It leaves viewers stupefied by a narrative that shows how mass murder became a way of life, even as we are intrigued by why an opportunistic, war-profiteer like Schindler takes enormous personal risks and also spends his entire fortune on bribing Nazi officials to save as many Jews as he can.
Liam Neeson, who plays Schindler, portrays these contradictory traits of personality to perfection. He is pitted against Amon Goeth (Ralph Fiennes), the German commandant of Plaszow labour camp, tasked with the total elimination of Krakow's Jews. A cold-blooded killer, pervert and debauch, Fiennes brings to Goeth's role the frightening banality and unpredictability associated with evil. Schindler befriends Goeth and uses money, expensive gifts, connections, force of personality and charm to buy the freedom of Jews as essential workers in his factory, far in excess of his requirements. Ben Kingsley as Schindler's Jewish accountant, Itzhak Stern, who coaxes and assists him in the endeavour, puts in a scintillating performance using his permanent deadpan to great effect.
The most disturbing sequence in the film is the emptying of the Krakow ghetto — the chilling efficiency and brutality of the Nazis as they go about the task. Spielberg also weaves in stories of numerous Jewish victims and survivors, powerfully personalising their fates for viewers.
The Pianist is based on composer Wladyslaw Szpilman's autobiographical tale of how he miraculously hid and survived the Holocaust in Warsaw for five long years, with the help of friends, the Polish resistance, a German officer and luck. The film is haunting because it is a vivid, harrowing account of a vulnerable individual, who is in imminent danger of capture and death, every minute. Polanski has successfully merged his own experiences as a Holocaust survivor in wartime Poland with Szpilman's remarkable story to make viewers hold their breath and wish fervently that the young pianist isn't discovered. Adrien Brody plays the sensitive, terrified and fragile Szpilman, relying more on tenacity and chance than heroism as he witnesses the hair-raising, inhumane crimes perpetrated on fellow Jews by the Nazis, from his hideout.
But it's not as if only true stories of the Holocaust have dealt effectively with the subject on celluloid. Fiction, too, has produced interesting films like Life is Beautiful (1997) and The Reader (2008). Italian actor and auteur Roberto Benigni's Life is Beautiful startles viewers with the use of poignant humour in dealing with the grim events. It's the story of how Guido Orefice, a Jewish librarian, devises a game to protect his little son, Joshua from being accidentally discovered by concentration camp guards, which would have led to the gas chamber. The film has many heart-in-the-mouth moments since the life of the innocent child, left alone the whole day while Guido does forced labour, depends entirely on believing and obeying the rules of the imaginary game, set by his father. The anxiously amusing treatment of an intensely tragic theme works wonders on screen.
The Reader, based on Bernhard Schlink's novel, is a brooding, guilt-ridden movie set in post-War Germany, about a young German teenager, Michael Berg's erotic affair with a secretive, middle-aged woman, Hanna Schmitz. Their encounters follow a pattern —– he reads to her then they have sex, till she abruptly disappears one day. Years later, as a law student, Michael is stunned to see Hanna at a war-crime trial, accused of the death of 300 Jewish women, for not setting them free from a burning church in the absence of orders. Also revealed is Hanna's other shameful secret — illiteracy. Sentenced for life, she starts receiving audio-tapes from Michael on which he records book readings in his voice. Slowly, Hanna teaches herself to read with the help of the tapes by referring to the respective books in the prison library. She finally hangs herself a day before her release after reading the memoir of a young Holocaust survivor. Kate Winslet is superb as the sullen, secretive, seductive, complicated Hanna in this controversial film.
Not only have these films de-constructed this unbelievably dark period of mankind's recent history, but have also tried to dissect human nature, behaviour and actions during the Holocaust. Little wonder each film has won Oscars.
Top News
Injured children aged between 22 months and 3 years: Police ...
Wankhede moved the high court last month seeking quashing of...
AAP accuses the BJP of creating a ruckus at the event
Waste was being burnt, which allegedly resulted in the explo...
He has been awarded forfeiture of three years' seniority of ...