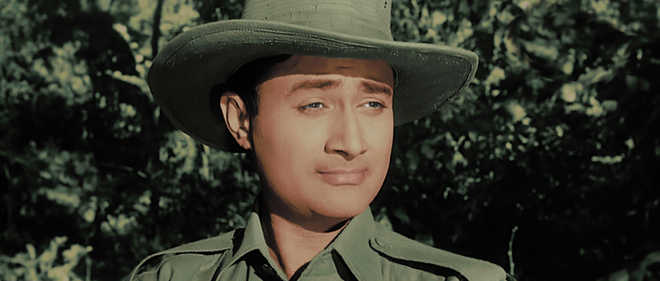 Salil Desai
Who can forget the dohas of Kabir or Tukaram's abhangs that distil the rich tenets of spirituality into simple, practical philosophies of life? The lyrical musings of India's other famous saints like Surdas, Namdeo, Tulsidas, Mirabai, too, have a power that's far more potent than serious, heavy sermons.
Similarly, popular Hindi film songs are also a veritable treasure trove of philosophy and spirituality. Some of the best lyricists of the Indian cinema like Sahir Ludhianvi, Majrooh Sultanpuri, Shailendra, Anand Bakshi, Indeevar have written gems of poetry that are equally enlightening about the difficult art of living.
Remember that haunting number from Waqt that captures the message of living for the moment:
"Aage bhi jaane na tu, peechhe bhi jaane na tu// Jo bhi hai, bas yahi ek pal hai"
The magic of Asha Bhosle's voice and Ravi's music makes Sahir's compelling lyrics into a melody of contemporary wisdom.
The widowed Nutan's appeal to her dejected lover in Saraswatichandra is also a masterpiece of sensible and poignant poetic advice about dealing with deep disappointment and moving on:
"Chhod de saari duniya kisi ke liye/ Ye munasib nahi aadmi ke liye"
Indeed Indeevar's lyrical creation is immortalised by Lata Mangeshkar's voice and Kalyanji Anandji's music.
Dev Anand's onscreen presence, Mohammed Rafi's voice, Jaidev's music and Sahir's lyrics inspire a light-hearted, spirited defiance of life's challenges and misfortunes among the listeners with that wonderful song from Hum Dono:
"Main zindagi ka saath nibhata chala gaya// Har fikar ko dhuen mein udata chala gaya"
The message of ultimate truth and man's final destination is captured beautifully in Shailendra's title song written for Teesri Kasam, set to the earthy rhythm of a trundling caravan by Shanker Jaikishen as Raj Kapoor gently cautions us in Mukesh's voice:
"Sajan re jhooth mat bolo, khuda ke paas jana hai"
Similarly, Anand Bakshi's telling verses, tuned to R.D. Burman's composition, brilliantly bring home the pitfalls of the hallucinogenic influences of modern life in Hare Rama Hare Krishna when Dev Anand tells drug addled hippies in Kishore Kumar's rich tenor:
"Dekhon ae deewanon aisaa kaam na karo, Ram ka naam badnaam na karo"
In Chitralekha, Meena Kumari mocks those who seek to renounce worldly pleasures and escape life by embracing spirituality prematurely in Lata Mangeshkar's voice by singing Sahir's lyrics set to Roshan's music:
"Sansaar se bhage phirte ho// Bhagwan ko tum kya paaoge"
And lest one laments that today's song's are deficient in spiritual quotient then just listen to Kailash Kher's positive rendition of that enduring, eternal ethos of life that "the show must go on" from Waisa Bhi Hota Hai
"Allah ke bande hasde// Jo bhi ho kal phir aayega"
These are but a few examples trawled from the millions of equally profound lines penned, composed and sung on screen over the decades.
When one goes to bed and puts on the radio on low volume to hear such wonderful Hindi film songs as sleep beckons and all else is quiet, it is as spiritual and uplifting an experience as one can hope to get in this crazy, modern, material world of ours.
And when the words are as simple and unpretentious as that wonderful song from Do Ankhen Barah Haath, written by Bharat Vyas and sung by Lata Mangeshkar to Vasant Desai's tune"
"Ae maalik tere bande hum// Aise ho hamare karam"
...they remind us of turning to our creator in moments of acute vulnerability, while also comforting us with the power of faith that keeps us going on the path of good. I am sure even the most unspiritual man and die-hard cynic on Earth cannot remain unmoved.
Top News
Mann polled 2,53,154 votes, while Singh secured 2,47,332 vot...
Political journey of Mann started when he resigned from Indi...
From resistance against Mughal invaders to British Empire, f...
Punjab CM Bhagwant Mann's leadership also under scanner
The result clearly indicates that anger of voters against tr...