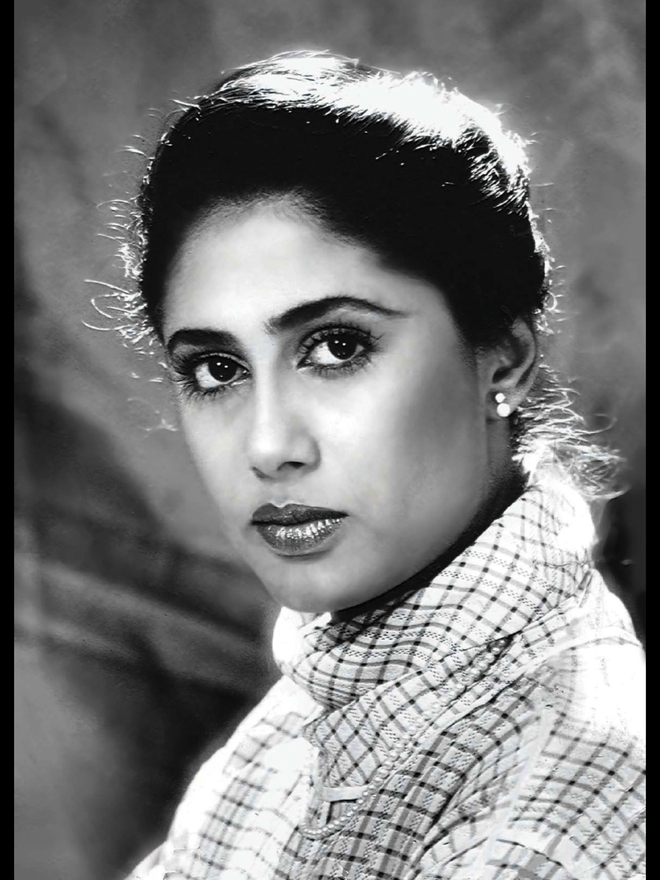 Chitvan Singh Dhillon
She possessed what sensuous Parveen Babi or Hindi cinema's bewitching 'Dream Girl' Hema Malini didn't! She articulated with her eloquent and dancing kohl-smeared eyes. Her appeal lay in her luminously beautiful persona accentuated by her chiselled bony frame. Her styles were dynamic and epigrammatic, almost gem-like, that ranged from the brilliancy of youth to the sombre gravity of age, passing almost into poetic expression of the highest order.
Smita Patil's supremacy over Indian parallel cinema was as magnificent as it was short. She staged her exit from this world on December 13, 1986, suffering from viral encephalitis. As fate would have it, she was only 31. She is credited with the ability to take up roles that cut across genres, languages, settings and themes. The 1970s and early 1980s saw her portraying the complexities and realities of the quintessential sari-clad Indian woman. She candidly supported art filmmakers, vociferously battled the stereotypical Hindi cinema hierarchies and like a phoenix, rose from the ashes to emerge at the top of the pecking order. Yet, she was remarkably unpretentious, not submitting to the trappings of stardom. Her characters portrayed intelligent femininity juxtaposed against the conformist male-dominated background.
Patil's maiden tryst with the camera was in the early 1970s as a television newscaster for Doordarshan. She eventually had every 'art' filmmaker ranging from the likes of Shyam Benegal, Govind Nihalani to Satyajit Ray lining up to sign her, usually alongside stalwarts like Shabana Azmi, Naseerudin Shah, Om Puri, Deepti Naval and others.
She started her illustrious career with Shyam Benegal's Charandas Chor (1974) and unwaveringly stuck with meaningful cinema for about five years, delivering cinematic classics with an absolutely stellar performance in Benegal's Bhumika (1977), for which she won her first National Award. She unabashedly refused all commercial offers. In an interview to Filmfare, she said, "I know I want to act in good films. But good directors are so difficult to come by. I hope I don't get pushed into doing commercial films because, truly, that will be the end of Smita Patil!" She excelled in movies like Manthan (1976), Jait Re Jait (1977, Marathi) and Umbartha (1982, Marathi), Mandi (1983) and Mirch Masala (1987).
It was in these cinematic worlds of ruthless realities, cruel injustices, merciless exploitations and the infrequent victory of individual revolt that Smita Patil was most content. Arth (1982) was, undeniably, her best-known film. In time she was accepted by commercial filmmakers and from Raj Khosla and Ramesh Sippy to B.R. Chopra, they all unanimously agreed that she was "excellent". Her fan base, too, swelled with her new-found celebrity status. Patil's sensational roles in her more commercial films — such as Shakti and Namak Halal — laid threadbare the permeable boundaries that existed between "serious" and mainstream cinema.
Smita Patil's possibly best and regrettably last role came when she collaborated with Ketan Mehta to play the aggressive and fiery Sonbai in Mirch Masala (1987). Smita won "Oohs & Aahs" for playing a feisty, strong-willed spice-factory worker who stood up in opposition to a lecherous petty official.
Remembering Patil on her 60th birth anniversary, it would, perhaps, not be an exaggeration to establish that she was the most accomplished and yet most underrated actress of Hindi cinema. Her oeuvre was stupendous carefully nuanced with inspiring, pragmatic performances. Smita Patil is a legend that lives, through her films, now and forever.