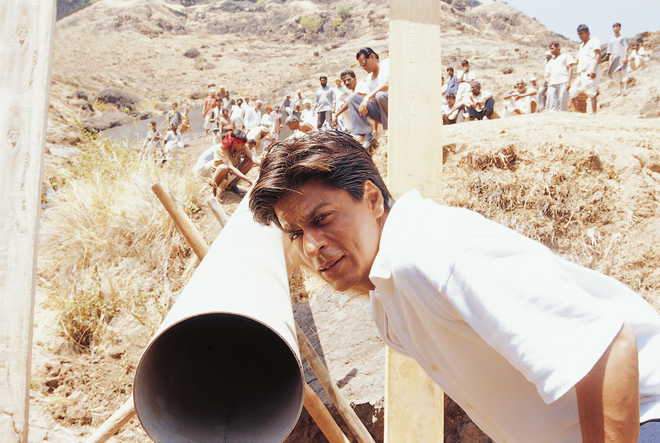 Shoma A. Chatterji
Kamal Hassan, whose talent is beyond debate, began hogging every frame of his films since Sadma. He followed this in film after film, devising strategies where he played double roles in several films and even 10 different roles in Dashavatar. Rajesh Khanna also became so narcissistic that it finally led to his own downfall.
Since then, it has been observed that many top male actors have acquired the tendency to hog the frame of every film they feature in. The co-actors, specially the female actresses romantically paired with them in a film are either new or still to find their feet in the industry, or much lower in rank than the hero himself. They are in august company. Celebrities like Charlie Chaplin, Elvis Presley, Sharon Stone, Marlon Brando, Saddam Hussain, and even Donald Trump, are said to be hardcore narcissists.
Since Lagaan, Aamir Khan has been following suit. The actresses he was paired with were unknown and other co-actors were from television. In 3 Idiots, he 'disappears' from the script but the entire story is so focussed on him that one waits with nail-biting suspense to find out where he had disappeared, why and how. Talaash makes short shrift of Rani Mukerji and Kareena Kapoor though the latter's character was central to the theme. In Ghajini, he was paired opposite south Indian actress Asin who was then unknown to Hindi audiences. In Dhoom 3, his double role took care of his narcissism and the less said of about his self-aggrandisement in PK, the better.
The less narcissistic Shah Rukh Khan, could not resist the temptation of picking Anushka Sharma to act opposite him in Rab Ne Bana De Jodi and in Swadesh, he effectively dwarfed Gayatri Joshi as the idealistic Swadeshi he falls in love with. In Fan, with the double role of both fan and his idol, a top Bollywood star, he pushes the envelope far enough to reveal signs of narcissism. The recent example is Ajay Devgn. In Drishyam, Shriya Saran plays his very young wife who is unknown to most of us. Once Tabu steps in as the IGP, she is given equal space with Ajay Devgn.
What is narcissism? Why do celebrities become victims of narcissistic personality disorder? The term "narcissism" derives from the Greek myth of Narcissus, a youth who fell in love with his own reflection in a water body. It is a known term for self-love. In their paper Narcissism and Celebrity, (Journal of Research in Personality xxx (2006) xxx–xxx), S. Mark Young and Drew Pinksy state that on the positive side, narcissists appear to be less depressed, more extroverted, have strong initial likeability, and perform better in public than non-narcissists. On the negative side, narcissists crave attention, are over confident and often lack empathy. These negative consequences make some narcissists difficult to work with at an interpersonal level, and often the initial positive impression they create can change to a negative one.
Dr. Sanjay Chugh, Delhi-based senior consultant psychiatrist, says, "Narcissism, as a personality characteristic, implies an exaggerated sense of self-importance, an excessive interest in or need for admiration, a sense of entitlement, and a lack of empathy for others. Beneath this over-confident exterior lies a very poor and fragile self-esteem ready to crack at the slightest hint of criticism." He adds that top stars thrive on adulation. "This fundamental equation is flawed because it is based on making stars dependant on others to feel good about themselves. Much of this adulation is for things that are superficial and beyond the control of the star concerned such as good looks, a good body, a photogenic personality and so on. They fail to realise that they will last in the industry only as long as people like to look at them."
Bobby Chakrabarty, actor and teacher of method acting, says, "Narcissism as a trait in human beings is prevalent in every field. Here it gets more exposure and visibility because entertainment industry is an audio visual industry catering to the masses and it is a hero-centric industry where more heroes are worshipped than heroines." Female stars are not half as narcissistic as their male counterparts. Vidya Balan stole the show in The Dirty Picture and Kahani because the films were heroine-centric and the scripts demanded that the woman is supreme. Rani Mukerji in Mardaani shares equal space and importance with the main villain Tahir Raj Bhasin. Priyanka Chopra in Aitbaar was as important as Kareena Kapoor and Akshay Kumar while she stole the show from everyone else in Fashion and Mary Kom. But in 7 Khoon Maaf she flopped! This underlines the patriarchal ambience and manipulation that sustain in Bollywood.
"Unfortunately, most stars lose their balance when they get excessive adulation. The high that this gives one gets so addictive and precious that one does not want to lose it. A part of the star actually starts to believe that he/she is all that the audience believes him/her to be, that they are indeed larger than life. Anything that tells them otherwise becomes too hard for them to handle," Dr Chugh sums up.
Top News
Aviation Ministry had imposed lower and upper limits on dome...
Tejashwi Yadav is deputy CM
New CJI will have a brief tenure of less than three months
A bench of Justices Surya Kant and J B Pardiwala also extend...
BJP fields Sushil Modi, a long-time confidante of Nitish and...