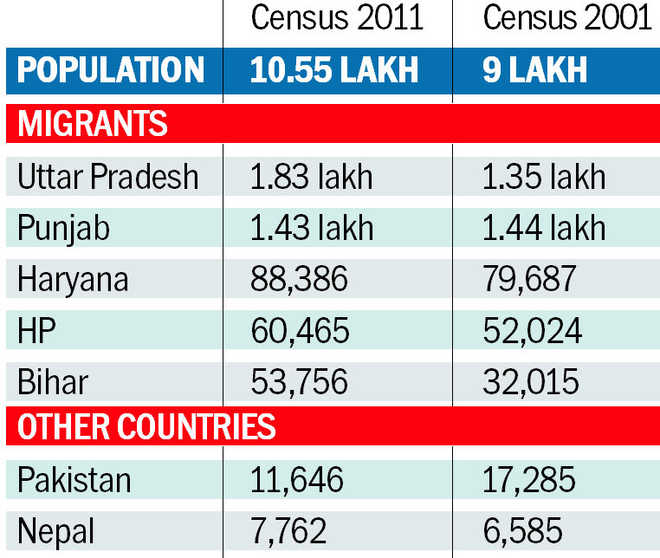 editorial@tribune.com
Naina Mishra
Tribune News Service
Chandigarh, July 20
Most migrants living in the city hail from Uttar Pradesh, followed by Punjab, reveals the Census Migration Report released recently.
In 2011, Chandigarh had a total population of 10.55 lakh, with the highest number of migrants 1.83 lakh (17.36%) from UP while those from Punjab are 1.43 lakh (13.58%). Similarly, 88,386 persons (8.37%) living in the city are from Haryana, 60,465 (5.73%) are from Himachal Pradesh (HP) and 53,756 (5.09%) from Bihar. The city is also home to 32,711 persons from Uttarakhand and 15,224 from Delhi.
In 2001, the city had a population of 9 lakh and the maximum migrants were from Punjab. Then, 1.44 lakh (15.99 %) migrants in the city were from Punjab, 1.35 lakh (15.10 %) from UP, 79,687 (8.85 %) from Haryana, 52,024 (5.78%) from HP and 32,015 (3.55 %) from Bihar.
Among migrants from other countries, the Census shows the city was home to the highest 11,646 persons from Pakistan, followed by 7,762 from Nepal. In 2001, the number of Pakistani migrants in the city was 17,285 while 6,585 hailed from Nepal.
Why they shifted to city
A majority of male migrants (1.9 lakh) are in the city for work and job purposes whereas female migrants (1 lakh) came here following their marriage. Further, most of the male migrants from UP came to the city for work and employment, followed by Punjab and Bihar. Among females, the maximum migration due to marriage is from Punjab, followed by UP and Haryana.
Migration from Chandigarh
In 2011, a total of 2.05 lakh persons migrated from Chandigarh. The maximum 1.21 lakh (59.03 %) went to Punjab, 50,437 (24.52 %) Haryana, 7,965 (3.87 %) HP, 6,567 (3.19 %) Delhi and 5,095 (2.48 %) to UP. The least migration, just two, is to Lakshadweep.