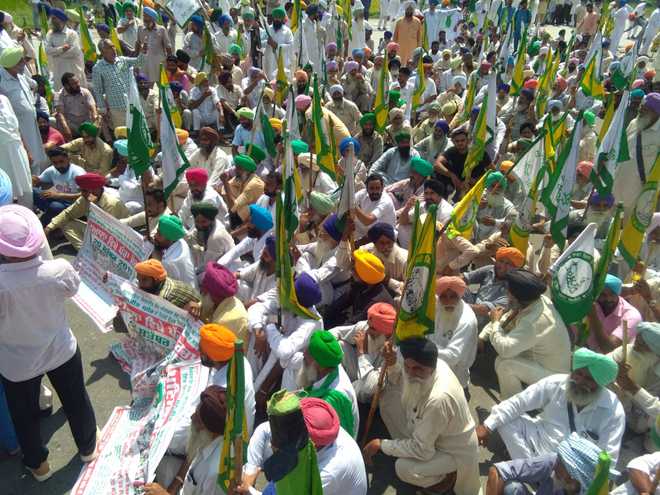 kavishakohli@gmail.com
Karam Prakash
Tribune News Service
Patiala, September 20
To seek pardon for a farmer activist, Manjit Singh Dhaner, who has been sentenced to life imprisonment allegedly for a false case, hundreds of farmers on Friday held a protest here on Friday.
Demanding the revocation of the life imprisonment of their union leader, farmers staged a sit-in dharna on Patiala-Bathinda highway and blocked the road near Mehmadpur village.
Police had to divert traffic on alternative routes as the protesters blocked the highway.
Following the blockade, commuters faced a tough time on the Patiala-Bathinda highway.
The protesters had planned to march towards the city, however, heavy police force stopped the farmers near Mehmadpur village.
Led by Bharatiya Kisan Union (BKU) Dakunda, protesters demanded immediate pardon to Dhaner by the Punjab governor.
Protesters claimed that he (Manjit) was awarded life imprisonment in a false murder case for fighting for justice to a girl— who was raped and murdered in 1997.
Notably, Manjit had been one of the key leaders to get justice for her.
Jagmohan Singh, General Secretary, Bhartiya Kisan Union (BKU) Dakunda, said "It is sad that an activist, who was instrumental in getting the justice to the girl of Mehar Kalan village, has been given life imprisonment. It is a fight for justice. We will continue our protest until he is given pardon in the murder case."
Narain Dutt, one of three farmer activists, who were implicated in the murder case but set free by the high court, said, "We had nothing to do with the murder. We happened to be in the court complex—on the day of murder—for an appearance in another case. Moreover, we were not on the spot where the murder took place. He should, immediately, be given pardon."
Out for indefinite strike
After staging a sit-in dharna on the highway, the protesters started indefinite strike at Mehmadpur Grain Market.
The protesters said that the strike would continue until their demands were met.
Within hours, the protesters erected tents at the grain market while trailers loaded with grocery and other items required for 'langar' reached the spot.
Heavy police force deployed
In the wake of the protest, Patiala city had, already, been turned into a fortress. Anti-riot vehicles, water cannons, and fire brigades were on standby; as many as 3000 police personnel — including the SPs and DSPs — were on toes throughout the day.
All the entry points to the city were barricaded since morning.
Fearing the sneak-in of the protesters, from any quarter, all the roads leading to the CM residence were blocked and street roads of the colonies around the CM's house were barricaded.
Cities