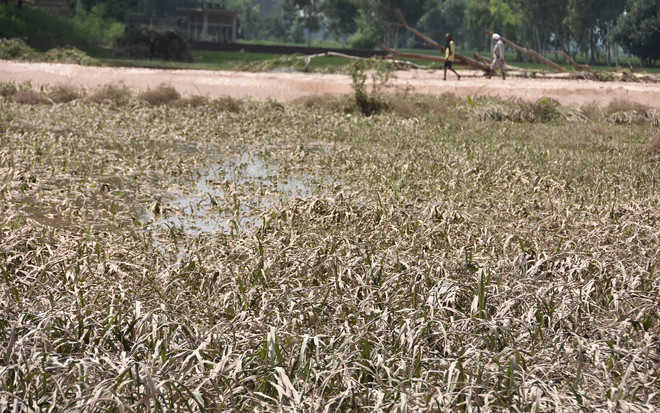 editorial@tribune.com
Ruchika M Khanna
Tribune News Service
Chandigarh, August 21
Even as the state remained on the edge, with almost 75,000 cusecs water being released by the BBMB, the government is grappling with the issue of compensating farmers, who have suffered losses worth crores.
The government has been dilly-dallying on formulating a crop insurance policy, which could have been useful to compensate farmers whose losses are now estimated at Rs 750 crore. In such a situation, the relief that the state can offer is just Rs 12,200 per hectare (or Rs 5,083.33 per acre) from the State Disaster Relief Management Fund, unless the Centre recognises flooding in Punjab as a natural disaster and gives it a flood relief package.
It is only then the cash-strapped state can look at a more decent compensation to be awarded to farmers. At places, where the farmers have suffered a loss of more than one crop (in Fazilka- Abohar, where besides horticulture crops, cotton is grown), Rs 5,625 per acre would be given for loss of horticulture crops and Rs 5,083.33 per acre for other crops sown along with kinnows.
Chief Minister Capt Amarinder Singh today wrote to the Prime Minister, seeking a Rs 1,000-crore special package, besides asking him to instruct the authorities to waive crop loans taken by farmers in affected villages for the current cropping season. The flooding in the Sutlej due to discharge of water from Bhakra Dam has caused extensive damage to crops, inundating 326 villages of Ropar, Ludhiana, Jalandhar, Moga, Ferozepur and Kapurthala. It is estimated that crop on 1.20 lakh acres of cultivated area is submerged.
Official sources, however, say that it would not be easy to get relief from the Centre, considering that the state decided against adopting the Pradhan Mantri Fasal Bima Yojana. Punjab had opted out of PMFBY in 2016 (when the Akali-BJP was in power).
Three years on, the state government is still considering on whether to come up with a crop insurance scheme or set up a crop compensation fund. Interestingly, Punjab Farmers and Farm Workers Commission had recommended that an insurance corporation be set up to compensate farmers for crop loss.
They had recommended that farmers pay a levy of Re 1 per bag, with a matching levy to be paid by the state to create a corpus of Rs 250 crore each year (considering 2.50 crore bags of wheat and paddy reach mandis each year).
The sources agree that on an average, Punjab has had to release Rs 100-150 crore crop damage compensation to farmers each year for the past seven years.
In 2015, because of the whitefly attack on cotton, crop worth Rs 650 crore was damaged. Last year, too, Rs 100 crore was released for fields in Majha region getting submerged. "The only way to go forward would be to have a crop insurance scheme or a corpus to compensate farmers in case of loss of crop. A decision in favour of either of these options will have to be taken soon," said a officer.
---
Floods & the aftereffects
Army, NDRF and SDRF pressed in service in Jalandhar and Ferozepur.
36,000 pranthas and 18,000 packets of dry rations and water bottles air dropped in Jalandhar villages by six Army choppers.
In Ropar, 40 medical vans, 111 ANM nurses pressed into service to conduct special health camps.
In all, 368 people rescued in Ferozepur, 60 in Ludhiana and 200 in Sultanpur Lodhi.
326 villages & 1.20 lakh acres flooded across state
Rs 750-cr loss Estimated on account of damage to crops
5,023 people rescued from affected villages
Top Stories