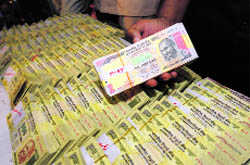 Vishav Bharti
Tribune News Service
Chandigarh, August 30
Expecting utmost transparency from others, the Aam Aadmi Party (AAP) itself seems to be shying away from sharing its funding details. The party that started out with the slogan of corruption-free India has failed to put the details of its funding on its website or bring it in the public domain.
A message, "under construction...New version coming soon" appears on the party's website when one clicks on its donation list link. Though the party claims that it doesn't accept donations of more than Rs19,999 in cash, insiders reveal that most donations in Punjab are being accepted in cash.
The sources say a splinter group of the party is carrying documentary proofs about "real donations" wherein leaders of the party are seen accepting cash which they will make public soon.
The party has also failed take into account the complete fund receipt books it had distributed among volunteers during the 2014 Lok Sabha elections. A senior party leader said in 2014, he was sent a large number of fund receipt books to collect funds for Bhagwant Mann's campaign. "I distributed these in villages. Nobody has so far asked me about the fate of these receipt books," he said, adding that such receipt books could be found in almost every constituency.
After a video clip showed party leader Sucha Singh Chhotepur "accepting" Rs2 lakh as party fund, he too confirmed that the funds were being collected in cash.
Party spokesperson Himmat Singh Shergill had said they would provide information on funding by August 28, but failed to do so. He today said Kapil Bhardwaj was taking care of finances of the party. Bhardwaj said they were only collecting funds only through mobile phone app "Aapdan" and all receipt books were invalid.
In April, Gurmail Singh, "Aapdan" incharge, Gharshankar, had alleged that party's observer for Nawanshahr Gajenra Sharma collected Rs30,000 from one Satnam Singh Jalwaha, Rs50,000 from Dr Dhir and Rs20,000 from Narinder Kumar. He also collected funds for the Maghi Mela rally and told the donors that they would get a message on their phones. Gurmail Singh said none of them got any message and their funds didn't figure on party's website as well. He accused the Sharma of giving inflated bills, but the party failed to take any action against the latter.
'Party won't appoint state convener'
Sources said following backlash over Chhotepur's ouster, AAP had decided not to appoint state convener. They said instead the campaign would be managed by the party's campaign committee. They also said the party had decided to carry out an impact assessment on Chhotepur's removal.