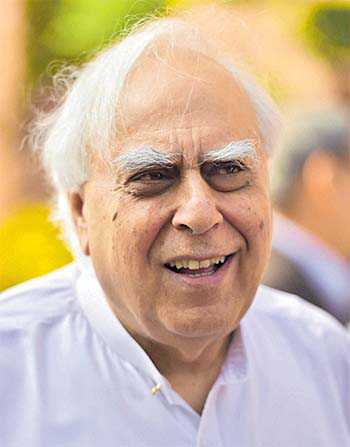 Saurabh Malik
Tribune News Service
Chandigarh, April 3
The state government has gone in for "celebrity" lawyers and kin of judges to defend its cases before the Supreme Court and other courts outside Chandigarh. It has also increased per appearance fee for "category A-1" counsel from Rs 2.5 lakh to Rs 3.30 lakh.
Former ministers and senior advocates Kapil Sibal, P Chidambaram, Ram Jethmalani and Salman Khurshid are just some of the top-brass legal honchos included in the list of "category 'A-1" counsel. Congress spokesperson Abhishek Manu Singhvi's name also finds a mention.
The panel of 73 advocates for "conducting/defending cases in the Supreme Court as well as other courts situated outside Chandigarh", was made public today leading to resentment of sorts among a section of Bar. Dubbing it as "VIP list", some Bar members minced no words to say names of "many" other meritorious advocates had been left out of the board.
The panel also mentions senior advocate Deepinder Patwalia's name in the list of category 'A-2' counsel, despite his polite refusal to accept the offer as a majority of the cases handled by his office are against the State of Punjab and its instrumentalities.
A communication by the Punjab Department of Home Affairs and Justice (Judicial-I Branch) to state Advocate-General Atul Nanda on the modified board says the state government, after careful consideration, has decided to revise the panel of counsel, who may be engaged from time to time for representing the State of Punjab in the Supreme Court as well as the courts situated outside Chandigarh.
The other advocates finding place in category 'A-1' are AK Ganguli, Amarender Saran, Dushyant Dave, Fali S Nariman, Gopal Subramaniam, Harin Raval, Indira Jaising, KK Venugopal, K Parasaran, KV Viswanathan, Mohan Parasaran, Mukul Gupta, Parag Tripathi, PP Rao, Shyam Divan, Justice VK Bali (retd) and Vivek Tankha. It also includes Attorney-General of India past and present; Punjab Advocate-General, and Solicitor-General of India, including Additional Solicitors-General of India past and present, whose names do not find a place in the list.
The list of category A-2 counsel, among others, carries names of wards of former Punjab and Haryana High Court Judges and Supreme Court Judges, including Akshay Bhan and Puneet Bali. The per appearance fee fixed for the category is Rs 2, 20,000.
The other names in the list include APS Deol, Arvind Nigam, Chander Uday Singh, Dhruv Mehta, Indu Malhotra, Jasjit Singh Bedi, Krishnan Venugopal, Meenakshi Arora, Midhesh Gupta, Pratibha Singh, RS Suri, Rajiv Datta, Rakesh Dwidedi and Sudhir Nandrajog.
The category 'A-3' counsel with per appearance fee of Rs 55,000 include Aprajita Singh, Haripriya Padmanabhan, Madhvi Divan, Manish Tewari, Meghna Mishra, Nandini Gore, Rajdeepa Behura, Rameeza Hakeem, Saurabh Kirpal and Rarunvir Kehar.
The category 'A-4' counsels with per appearance fee of Rs 35,000 are: Aman Nandrajog, Amol Suryavanshi, Aranyak Pathak, Arshdeep, Ashim Sridhar, Balaji Subramanian, Bansuri Kaushal, GM Padma Priya, Gaurav Gupta, Gurmeher Sistani, Jaiveer Shergill, Jasjeet Gogia, Karan Bharioke, Meenakshi Midha, Puja Priyadarshini, Rajat Brar, Raktim Gogoi, Saket Sikri, Sandeep Bajaj, Sangram Singh, Shivek Trehan, Sumer Sodhi, Tanmoy Mehta and Uttara Babbar.
Top News
The scheme to cost additional Rs 44,762 crore
There are about 50 lakh Central Government employees and ove...
Decision comes following two consecutive country-wide raids ...
The process of nominations ends on September 30 with only Sh...