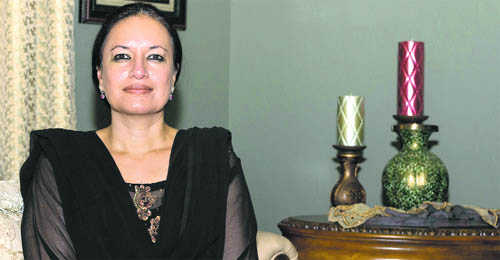 The granddaughter of National Conference founder Sheikh Mohammad Abdullah, Nyla Ali Khan has authored several books, including The Life of a Kashmiri Woman — on her grandmother Begum Akbar Jehan, whose death anniversary falls on July 11. She is a visiting professor at the University of Oklahoma, USA.
What concerns you the most when you say that the "mauled versions of history are cunningly making their way into mainstream Indian, Pakistani and international political discourses"?
When we read about the political history of Kashmir, about the turbulence and turmoil since 1989, quite a few scholars, analysts and activists have documented the human rights violations and written about the undemocratic processes that occurred in the state over the past several decades... they have written about the institutionalisation of corruption and how institutions in Jammu and Kashmir became dysfunctional over the years. But what I see in a lot of those works of history is the version of statist Indian as well as Pakistani political thought, and when I read other versions which are unofficial or which are not as statist, I do not see a recognition of the very strong Kashmiri nationalist movement, the inception of which was made in 1931.
We might have ideological differences and a lot of us tend to view history through the subjective lens of contemporary politics, but that is where we go wrong. We can do justice to at least our own history by contextualising events.
You referred to 1931 (agitation against monarchical rule) as a nationalist event, but what qualifies it to be a nationalist event since it was triggered by a man who was not Kashmiri (Qadeer Khan)?
The fact that political players bridged the ideological divide to come together, they recognised that the movement that will bring their people — Muslims of Kashmir valley — out of the misery of illiteracy, poverty and political disenfranchisement would have to be a people's movement. It could not be led by an outsider. We need to recognise that in 1947 and 1948, the leaps that Jammu and Kashmir made in establishing democratic processes and institutions were not made in any other part of the subcontinent.
When the movement began in 1931, it was for the enfranchisement of the Muslims of Kashmir valley and that was the reason that Molvi Yousuf Shah and Sheikh Mohammad Abdullah came together and people of their ilk supported them. So it was to voice the aspirations of the repressed, particularly the peasantry. That is how I see it as a nationalist movement. It was a movement that initially relied on religious discourse and was later transformed because that religious idiom was a very powerful motivating and unifying force. It was deployed very effectively to give legitimacy to a political movement.
With so many narratives, whose version of history is correct or nearer to reality? And how will it be decided whose version is true?
This is a very difficult thing for me to do because I, like you, look at things from a unique vantage point. I look at things from a particular position but I, unlike a lot of other people, recognise that this gives me certain biases and prejudices. I study the politics of Sheikh Abdullah and I continue to do that, it is a work in progress. I admire his politics, his personality. I admire the unifying force that he became at a time when our state was fragmented. I admire him for the primacy which he gave to Kashmiri identity… it is at this stage that there came a time when Kashmiri people learned to take pride in themselves, their cultural identity.
They became a political force to be reckoned with, to be recognised. Recently I did some work on the Quit Kashmir Movement. There was a time when Sheikh Abdullah was seen as a rebel against the state. Every society and individual is dynamic and no political player remains the same throughout. No political player's identity remains static.
As an academician, how do you see Sheikh Abdullah? Was he a nationalist, or someone who sought refuge in religion using the podium of shrines for his own politics?
Using the podium of shrines to mobilise people — that has been done the world over. Religious institutions have been used in detrimental ways but also to create positive identity politics for mobilising people to recognise their own political rights and to fight for it. Sheikh Abdullah was one politician in South Asia who was able to employ the religious idiom very successfully to mobilise the people to recognise that they were people who were entitled to privileges and rights.
In The Life of a Kashmiri Woman, the protagonist is your maternal grandmother Begum Akbar Jehan. Was her influence instrumental at any point in time in shaping the future of the region?
She was born into a very privileged family, she was half-Austrian … so my grandmother straddled two cultural paradigms and she was a very religious woman.
In 1932, she made the very difficult choice because Sheikh Abdullah then was a young man, a rebel who was trying to make his presence felt. So, she made the difficult decision of marrying someone whose future was unpredictable and unstable... but throughout the 1930s, while he was rebelling against the monarchy, and in 1950s and 1960s when he was a political prisoner of the Government of India, she stood by him. In 1955, when Mirza Afzal Beg created the Plebiscite Front, Begum Akbar Jehan was its unofficial member. Activists of that period will tell you how stifling the atmosphere was, particularly for her and her children.
Between the two extremes of being the 'Lion of Kashmir' and a villainous character, as his detractors describe him, where does Sheikh Abdullah stand for you?
As a granddaughter, I have the greatest respect for him. He suffered tremendously at the political and personal level. He was betrayed by his very close colleagues and comrades and he suffered because of their betrayals and I include Jawaharlal Nehru in that... people who had sworn to protect the people of Kashmir.
As an academic, I would say he was a paradox. Sheikh Abdullah was a Kashmiri nationalist, he did not identify himself as an Indian nationalist or as a Pakistani nationalist. He did not toe the line of either Indian nationalism or Pakistani nationalism, which is what his detractors would have us believe… he gave primacy to the aspirations of his own people and to their political evolution. There was a point in time when he was betrayed by the nation-state of Pakistan as well. In the early 1970s, when he was negotiating with the political players of both nation-states, he was told categorically by Zulfikar Ali Bhutto that after the creation of Bangladesh in 1971 and after India had established its military supremacy, Pakistan was not in a position or would not be in a position for the next few decades to do anything at all for the people of Kashmir, and he should take whatever decision he could to save and retrieve whatever little autonomy he could at that time.
The problem in the several analyses of Sheikh Abdullah is that even his detractors unwittingly place him on a pedestal and view him as an individual who could have changed the political and historical tide of Kashmir all by himself.
Do you remember Sheikh Abdullah as a sad man?
When he died in 1982, I was 10. But I had the privilege of spending a lot of time with my maternal grandparents and I remember vividly that a couple of days before he died, my mother and I were with him. There was a lot of sloganeering going on outside the house. One of the slogans was Zinde Thavun Abdullah (Keep Alive, Abdullah). He could not hear very well and he asked my mother what they are saying. She said, "They are praying for your long life." He said, "Why, what have I done for them?" So I don't think he was a content man. He was a sad man.
How would Sheikh Abdullah have reacted in 1989 (when militancy erupted)?
He had no desire and made no attempt to endanger the lives of the people of this place and jeopardise the lives of our younger generations. He was not a trigger-happy politician. He was a man who was in the trenches with his people. If he made a political demand, he would make sure that was followed by his presence in the trenches with his political activists. So I don't agree he would have been a gun-toting politician, but I think he would have voiced the demand for self-determination, absolutely.
Being a chronicler and part of the Sheikh family, how do you manage that thin line of impartiality?
I am not the chronicler of the Sheikh family. That is a reductive reading of my work. The reason I chose to work on my grandmother is because there is a historical value in revisiting and challenging the historical narratives about the political actors of pre and post-1947 Jammu and Kashmir. A few people label me as an apologist of the National Conference and some as an ideologue probably, which is interesting. This is not what I am.
Why did the National Conference suffer its worst defeat in the elections of 2014?
The antagonism toward NC manifested by both state actors and non-state actors and the increasing vulnerability of the organisation's cadre was terribly damaging, and its status as the upholder of regional aspirations and an adversary of the centrist policies of the Government of India was greatly undermined. Several combinations and permutations didn't bode well for the political well-being of either the political organisation or the state, which hadn't been engineered either by Begum Akbar Jehan or by the surviving members of Sheikh Abdullah's loyal contingent. The cementing of these alliances were apocalyptic events, portending, as future events showed, the disintegration of regional aspirations.
What is the future role of NC with PDP gaining strength in Kashmir and BJP sweeping Jammu?
It will be a force to reckon with if its grassroots cadre is strengthened and educated and well-informed young blood is infused and promoted. The connect between the top leadership and its mass base needs to be re-established in view of changing regional, political and socio-economic aspirations. No organisation, let alone a political organisation of repute and responsibility, can continue to survive with deadwood.
Top News
Aman Arora, Dr Inderbir Singh Nijjar, Fauja Singh, Chetan Si...
Video celebrating the murder emerged after phone of youngest...
Delhi Police teams followed them through 6 states including ...
In one of the photos recovered by Delhi police, Sirsa is see...
Appointment comes after state DGP VK Bhawra proceeded on two...