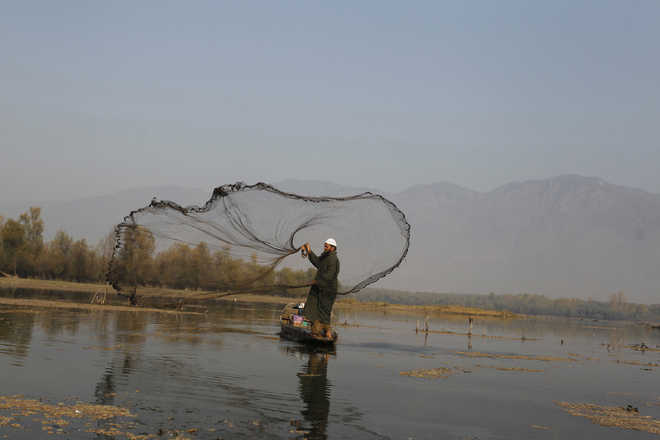 Tribune News Service
Srinagar, June 7
Congress MLA from Bandipore Usman Majeed today cautioned the government against environmental disaster in case immediate efforts were not taken to save Wular Lake, the only freshwater lake in Asia, from further degradation.
"A plan is required to remove willow trees and prevent their re-growth in the periphery of the lake," said Usman Majeed while participating in the discussion on demand for grants for the forest, ecology and environment in the state Assembly here today.
"If we lose Wular, it will lead to an ecological imbalance," he said. The MLA said that it was important to save the lake as water from across Kashmir flows into the lake through Jhelum river, before it pours out of the Valley to Pakistan-occupied Kashmir (PoK) and Pakistan.
Former minister Usman Majeed also lamented the laxity on the part of the state and Central governments over the availability of funds for the conservation and preservation of the lake under Wular Conservation and Management Authority (WUCMA). He said that of the total Rs 120 crore, only Rs 60 crore was made available for its conservation till the project expired in December last year.
Spread over 86 sq km, Wular is located in Bandipore and Baramulla districts of north Kashmir.
The former minister also sought adequate measures to preserve the Dal Lake in Srinagar district and Mansbal in Baramulla. He also demanded conservation of forest cover and wildlife in the state to ensure a clean environment.
"We have a strong forest policy, but it exists only on paper," Majeed said.
Top News
Says wants it to commit constructively to establish facts
Blinken says it is 'important for India to work with the Can...
However, neither the government body nor the politicians sin...
Canada's trade and ability to be a part of Indo-Pacific and ...
Union Minister for Rural Development makes public demand