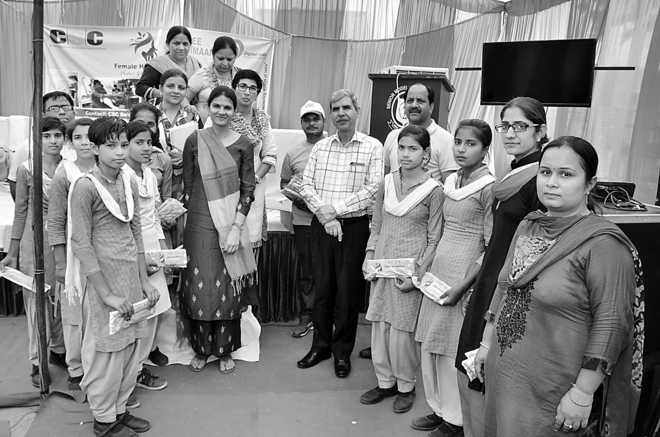 Sushil Manav in Chandigarh
It has taken a tenuously stitched tentative form of governance in Haryana to realize why schoolgirls drop out after a certain age. Anju Arya is a small cog — yet a vital link — in the vast administrative machinery at the disposal of Chief Minister Manohar Lal Khattar ever since he embarked on the concept of CM's Good Governance Associate (CMGGA). The CMGAs form an academically rich talent pool interfacing with top government officials, accessing policy papers and suggesting ways to improve local governance.
Last year Anju, while flipping through papers on school dropout rate in Fatehabad, quickly related the facts with what she studied in her post-graduation in social work from Tata Institute of Social Sciences (TISS) in Mumbai. On her table lay findings of a survey: 147 girls of class 6th to 12th in the district had stopped going to school due to "personal reason." She concluded that the "personal reason" essentially involved their inability to cope with the physiological changes, including menstruation. The dropout rate among Haryana schoolgirls is over 15% against a national average of about 4%.
In Sirsa, another CMGGA, Priyanka Sinha, interacted with as many schoolgirls as possible and noticed that the lack of counselling and absence of hygienic methods among village women forced teenage girls to avoid their school. Sinha, a maths honours graduate from Delhi University, could then easily put two and two together.
Today, both Arya and Sinha have been working so dedicatedly on menstrual health in their districts that they are known as 'pad-women' of their areas.
In December last year, Priyanka launched a programme "A Period of Sharing" with focus on reusable cloth pads for girls in government schools. "This is a project in collaboration with a Tamil Nadu-based reusable cloth pad manufacturing enterprise, Eco Femme. The project aims at creating awareness on menstrual hygiene and distribution of reusable cloth pad among girls. It is devoted to busting myths and social taboos along with sensitizing girls towards environment by making a shift from non-biodegradable sanitary napkins to reusable cloth pads. "Eco Femme is supplying us the cloth pad free of cost," says Priyanka.
The effect among the beneficiaries is instant. Many students from Government Girls Senior Secondary School, Ellenabad (Sirsa), say they are better equipped in tracking her menstrual cycle, and that they felt comfortable with reusable cloth pads. The most positive impact is that girls don't shy about talking to their parents, teachers and friends about menstruation. "They also take part in sessions in their village to sensitize women," says Priyanka.
Arogya Shastra is another project launched by Sinha in Sirsa district with focus on biodegradable and cloth pad among village women. The women and child development department in collaboration with Vyomi Social Enterprise has organized awareness camps on menstrual hygiene in seven blocks of Sirsa for training the trainers.
Priyanka says a biodegradable pad manufacturing unit will be set up jointly by the jail authority and Vyomi Enterprise within the district jail. It will help in rehabilitation of women jail inmates by providing them employment. "We plan to incentivize pads' distribution through Anganwadi workers."
In Fatehabad, Arya, too, has helped in setting up a sanitary napkins unit with assistance from a local youth, Herjeet, at Bhirdana village. Deputy Commissioner Hardeep Singh recently inaugurated the project.
"The DC has approved the purchase of first 15,000 sanitary pads to be produced by this unit for free distribution," says Anju. The sanitary pads made of cotton cloth and gel sheets will cost Harjeet Rs 2.5 to 3 apiece and will be sold for Rs 5 apiece or even less. The unit has also provided employment opportunity to a few women in the village, says Anju.
Top News
Harried passengers take to social media to vent their ire at...
Lapid had stirred a massive controversy by terming Vivek Agn...
Final turnout to be higher as voting process continued at po...
DigiYatra will provide seamless entry and embarkation proces...
His song 'Mahakaal' removed from YouTube after 19 hours