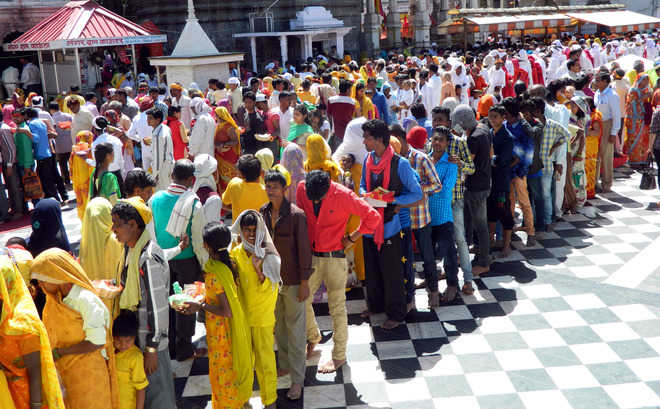 Ashok Raina
Kangra, October 10
During Ashwin Navratra and Durga Pooja this year, nearly 1.5 lakh pilgrims from across the country visited the Bajjreshwari temple here. The temple is one of the 52 shakti peeths, which remains humming with the influx of pilgrims during the Navratras that concluded today.
Thousands of pilgrims visited the shakti peeths of Bajjreshwari, Jwalamukhi and Chamunda temples in Kangra district during the Ashwin Navratra. The pilgrims, mostly followers of Dynoo Baghat, who offered his head in the Bajjreshwari temple, had been thronging this temple town daily during the past 10 days.
The surgical strike in POK resulted in tight security in the town during Navratras, which culminated with Ram Navami today.
Sanjeev Gandhi, SSP, Kangra, said bomb disposal squads, along with sniffer dogs, used to keep a tab on all three shrines daily. Metal detectors had been introduced and pilgrims visiting shrines were frisked by the security personnel. Coconut as offering was also banned in the temples.
Pawan Badial, temple officer, Bajjreshwari temple, said bulk of the pilgrims were from various states, including Punjab, Haryana, UP, Rajasthan, Jammu Kashmir and Himachal Pradesh.
He said on the eve of Ashtami and Navami, 50,000 devotees paid obeisance at the shrine. He said on Ashtami, Rs 4.95 lakh was received as offering in the temple yesterday. Lakhs of rupees, besides gold and silver, were offered by devotees during the Navratras.
Today, on the occasion of Ram Navami, 35,000 pilgrims visited the shrine and long queues of pilgrims were seen waiting for their turn to have a glimpse of Goddess Bajjreshwari.
The idol of Goddess Mahishasur Mardini also attracted thousands at Tara Mandir at Birta during the festival. The idol will be immersed in Banner Khad tomorrow.
Top News
The former military ruler had left Pakistan in March 2016 fo...
After his failed misadventure in Kargil, Musharraf deposed t...
Military shoots down the surveillance balloon in Atlantic Oc...
The incident took place on Friday when Kambli reached his fl...
Dearness allowance for employees and pensioners are worked o...