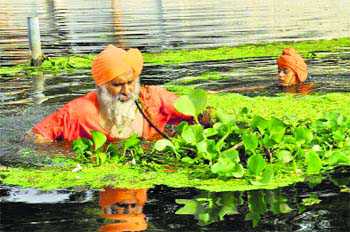 Ravi S Singh
Tribune News Service
New Delhi, January 6
The Centre will replicate the model of Punjab's Seechewal village (Jalandhar) for development of 1,600 villages located on the banks of the Ganga under the Namami Gange mission.
Seechewal and its contiguous villages have been successfully transformed by environmentalist Balbir Singh Seechewal with public-private efforts. Earlier, he rejuvenated the historic Kali Bein tributary of the Beas with the help of local people (voluntary kar sevaks).
The Union Ministry of Water Resources, River Development and Ganga Rejuventation was impressed with the Seechewal model, which included a low-cost and locale-specific sewage system.
The ministry has identified 1,600 villages in various states under the Ganga Gram Yojana as part of the Namami Gange Programme. Minister Uma Bharti yesterday announced that 200 villages would be developed in the first phase.
Launching the programme at Puth in Hapur district (UP), Bharti said Rs 1 crore would be allocated for each village. "These will be developed under the Seechewal model. Open drains falling into the Ganga will be diverted and alternative arrangement for sewage treatment made. There will be a toilet in every house," she said.
A salient feature of the Seechewal model is the storage of sewage water in a pond and its use for irrigation after treatment in a natural way.
Top News
Several pictures of Amritpal Singh in different attires rele...
Arguments between the Speaker and Congress MLAs are witnesse...
The BSF troops manning the Chamliyal border post in Ramgarh ...