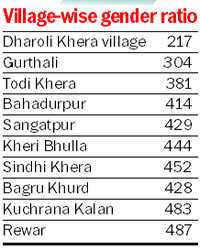 N Kalia
Jind, February 29
The state government's tall claims of improvement in sex ratio have been dashed after 10 villages of Jind district reported sex ratio below 500 in 2015. These villages include Kheri Bhulla, Kuchrana Kalan, Sindhvi Khera, Sangatpura, Todi Kheri , Bagru Khurd, Bahadurpur, Dhroli Khera, Rewar and Gurthali villages.
The Dharoli Khera village has the lowest sex ratio of 217 females against 1000 males. Similarly, Gurthali has sex ratio of 304, Todi Khera - 381, Bahadurpur - 414, Sangatpur – 429, Kheri Bhulla – 444, Sindhi Khera – 452, Bagru Khurd – 428, Kuchrana Kalan - 483 and Rewar - 487.
The civil surgeon has sought clarification in this regard from the senior medical officers (SMOs) of Kalwa, Kharkaramji, Jullana, Safidon, Uchana and Ujhana tehsils.
The SMOs have been instructed to issue show cause notices to the regular Multi Purpose Health Workers (MPHWs) and Auxiliary Nurse Midwives (ANMs) working in these villages. They have been directed to install wall paintings in these villages mentioning compulsory registration of pregnant women during antenatal care, offences under the PNDT and MTP Acts, incentive to informers scheme, helpline numbers along with sex ratio of the village.
Although steps are being taken to curb female foeticide, but sex detection continues. There are around 40 ultrasound centres in the district inspected regularly by the health officials. Given that, it is increasingly felt that people visit other places for sex detection tests.
Vinay Singh, Deputy Commissioner, said, "The health officials have been instructed to keep regular watch on ultra sound centers and conduct surprise raids. They have been asked to take strict action against MPHWs and ANMs working in the villages with skewed ratio."
Seeking public support to curb female foeticide, Vinay Singh, said, "Persons with information about sex detection test should come forward."