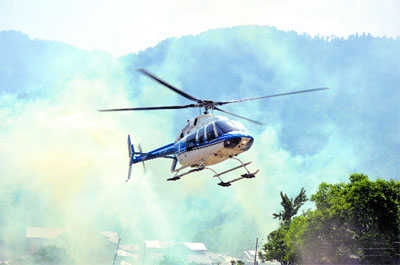 Girja Shankar Kaura
TRIBUNE NEWS SERVICE
NEW DELHI, May 10
Having already lost one week of operations due to the orders of the National Green Tribunal (NGT), 11 aviation companies have been given clearance by the Directorate General of Civil Aviation (DGCA) to carry out chopper shuttle operations to the revered Kedarnath shrine.
The shuttles got underway from today and the companies which have been given the clearance following inspection of their choppers include state-run Pawanhans, Arrow Aircraft, Aryan, Pinnacle, the GVHL, Himalayan, Heritage, UT Air, Transbharat, Premair and the ICPL.
The orders clearing the rides were issued yesterday by the Uttarakhand Civil Aviation Development Authority following a go ahead from the DGCA.
The shuttle operators, a majority of them private, have been overbooked by the pilgrims wanting to visit the Kedarnath shrine as part of the Chardham Yatra which got underway earlier this month.
A schedule for the shuttle operations was handed out to the aviation companies yesterday and is initially for nine days.
The shuttle operations to Kedarnath shrine had been under suspension following orders from the NGT.
Acting on a plea raising concern over the looming threat to the flora and fauna in the eco-sensitive zone in the state due to regular operation of helicopters, the NGT had issued orders for the suspension of the chopper services to Kedarnath Temple till further orders.
Fourteen private companies want to operate shuttles to the shrine, but as of now only 11 have been given the clearance.
Following the inspection of the choppers DGCA is likely to assure the NGT of proper action that has been taken for the reduction of noise of the aircraft that is apparently affecting the flora and fauna of the region.
The National Green Tribunal had issued a notice to the Uttarakhand government last month, asking it to give directions to helicopter operators on permissible noise levels and the altitude at which a chopper could fly over the eco-sensitive zone of the Kedarnath Wildflife Sanctuary.
Top News
With the induction of five more ministers, the strength of B...
Supreme Court judge bats for mandatory regulation of social ...
Two-day special Maharashtra Assembly session begins
Two AK series rifles, seven grenades and pistol recovered fr...
BJP's next round of growth will come from South India, says ...