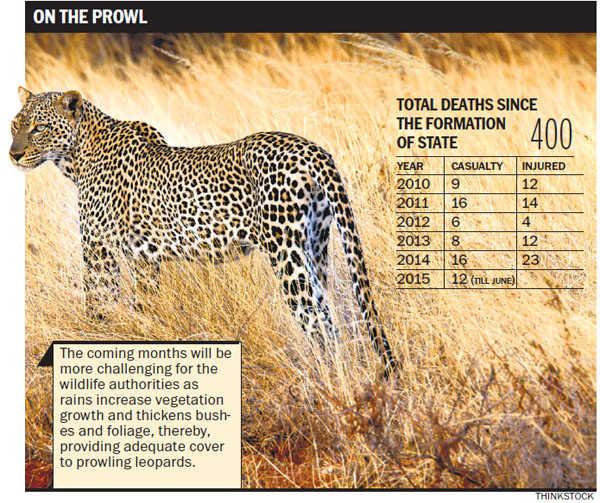 Jotirmay Thapliyal
Tribune News Service
Dehradun, July 8
Twelve persons have lost their lives in wild animal attacks this year indicating that the man-animal conflict in Uttarakhand has reached an alarming proportion.
The death of two sisters in Chamoli in a leopard attack is the latest incident in the series of man-animal conflicts in the state. Leopards have killed five persons in June.
Experts say the death toll might break the all-time record by the year-end. Rapid changes in the forest eco-system, mainly owing to excessive human intervention and climate change, have been forcing wild animals to stray into human habitations frequently.
Since the formation of the state, 400 persons have fallen prey to leopards. The wildlife authorities, despite their best efforts, have failed to curb the increase in the fatal animal attacks on humans.
The coming months will be more challenging for the wildlife authorities as rains increase vegetation growth and thickens bushes and foliage, thereby, providing adequate cover to prowling leopards.
A leopard has a tendency to hide itself in bushes. The maximum number of human causalities have been due to sudden attacks by leopards from behind bushes.
Meanwhile, Chief Conservator of Forests and Wildlife Dhananjaya Mohan has issued instructions for the identification of sensitive areas alongside human habitations and taking adequate measures to check animal attacks on humans during the monsoons.
He has recommended clearing of bushes, especially in areas near forests. He has also called for making arrangements for installing solar lights in sensitive areas.
Principal Chief Conservator of Forests Srikant Chandola said the man-animal conflict was a big challenge in the state. He stressed the need for both short and long-term planning to tackle the issue.
On the other hand, the Forest Department has assured that next of kin of the victim would be given compensation promptly.
Top News
Children were attacked on a playground, tweets a local lawma...
Wankhede moved the high court last month seeking quashing of...
AAP accuses the BJP of creating a ruckus at the event
Waste was being burnt, which allegedly resulted in the explo...
He has been awarded forfeiture of three years' seniority of ...