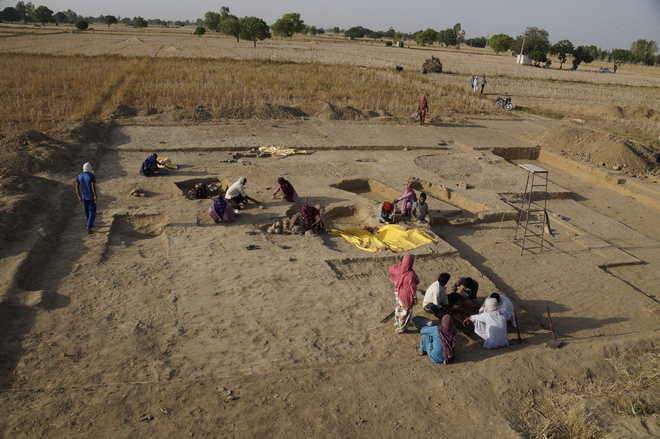 Deepender Deswal
Tribune News Service
Rakhigarhi (Hisar), April 13
The excavation work at the Harappan site has got a major breakthrough with the recovery of around 15 human skeletons from mound no.7 in Rakhigarhi during the ongoing excavation being carried out by the state government and Deccan College, Pune.
Archaeologists are trying to decode the mystery of the 5,000-year-old Harappan civilisation (also known as Indus Valley civilisation) by the analysis of the DNA samples of the human bones recovered from the site.
Experts from the Seoul National University College of Medicine in South Korea are also involved in the excavation.
Sources said the scientists involved in the DNA analysis of the four skeletons found at the same site last year are enthused over the positive results of the ongoing laboratory study. The recovery of 15 more skeletons would give a big push to the research work, they said.
Shish Pal Chalia, assistant conservator, state Archaeological Department, who is also associated with the excavation, shared some pictures of the skeletons with The Tribune. Archaeologists have termed Rakhigarhi as the biggest Indus Valley civilisation site in the world, which has remained largely hidden so far.
Vazir Chand Sirohi, a local guide, said the site was spread over 224 acres area in the village. "The Archeological Survey of India (ASI) has acquired the land from mound no.1 to 5, but the sites at mound no.6 and 7 are owned by private persons. Due to agriculture work, these sites have suffered immense damage," he said.
The sources said, "The site has been divided into seven sectors. The excavation is going on at mound no.2, which is considered a habitat site and mound no.7, a cemetery."
The sources said excavators had opened 20 graves and skeletons had been found in 15 of them. They said DNA samples were being sent to the laboratories for bio-molecular scientific analysis.
The archeologists said the DNA samples would be analysed at the Centre for Cellular and Molecular Biology (CCMB), Hyderabad; Howard University, USA; and the Seoul National University, South Korea.