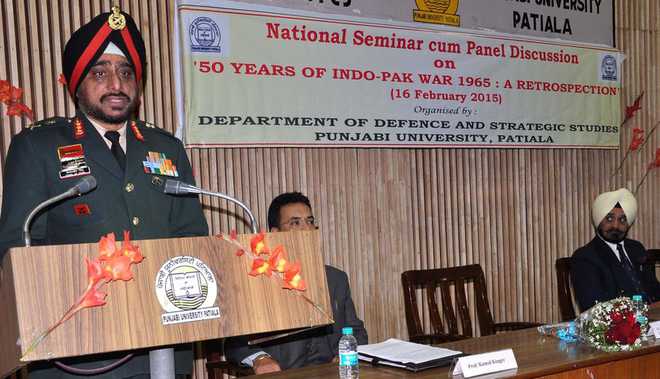 Tribune News Service
Patiala, February 16
Lieut-Gen KJ Singh (AVSM), General Officer Commanding-in-Chief of the Western Command, said here today that the Indian Army was fully prepared to take on Pakistan, if needed.
Presiding over a one-day national seminar-cum-panel discussion on "50 Years of Indo-Pak War 1965: A Retrospection" organised by the Department of Defence and Strategic Studies of Punjabi University, he said although the war was fought 50 years ago, the lessons taught by it were relevant even today.
"Pakistan started the war thinking India did not have the guts to fight them. Moreover, they had better arms than the Indian Army at that time. However, India taught them a lesson they will never forget. It is the will of the Indian soldiers and their love for the country that makes them superior to any other armed force in the world. On date, the Indian Army is way ahead in technology and training," he said.
Major-General BS Grewal (VSM, retd) paid tribute to Major Bhupinder Singh for his outstanding contribution in the 1965 Indo-Pak war.
In his presidential remarks, Dr AS Chawla, Academic Affairs, shared his own experience of the SSB interview and the academic angle of any possible war.
Major-Gen Rajendra Nath (PVSM, retd) presided over the concluding session. During that session, Lieut-Gen NPS Hira (AVSM, SM), GOC 11 Corps, discussed geopolitical and strategic environment during the 1965 war. Brig DS Grewal (retd) spoke on various military operations during the 1965 war. Defence analyst MS Bajwa did a critical analysis of the 1965 war and the strategic location of armed forces of both sides. Lieut-Gen Chetinder Singh (AVSM, SM, VSM, retd) discussed the operations conducted by 1 Corps. Wg Cdr. Debabrata Dey explained the role of the Indian Air Force and the Indian Naval Staff in that War.
In his concluding remarks, chairperson Maj-Gen Rajendra Nath said Pakistan's overall concept was to get hold of Jammu and Kashmir during that war. He also mentioned about the coordination between the forces and the government. The session closed with a vote of thanks by Dr Umrao Singh.
Top News
Several pictures of Amritpal Singh in different attires rele...
The report of the panel was tabled in the Lok Sabha on Tuesd...