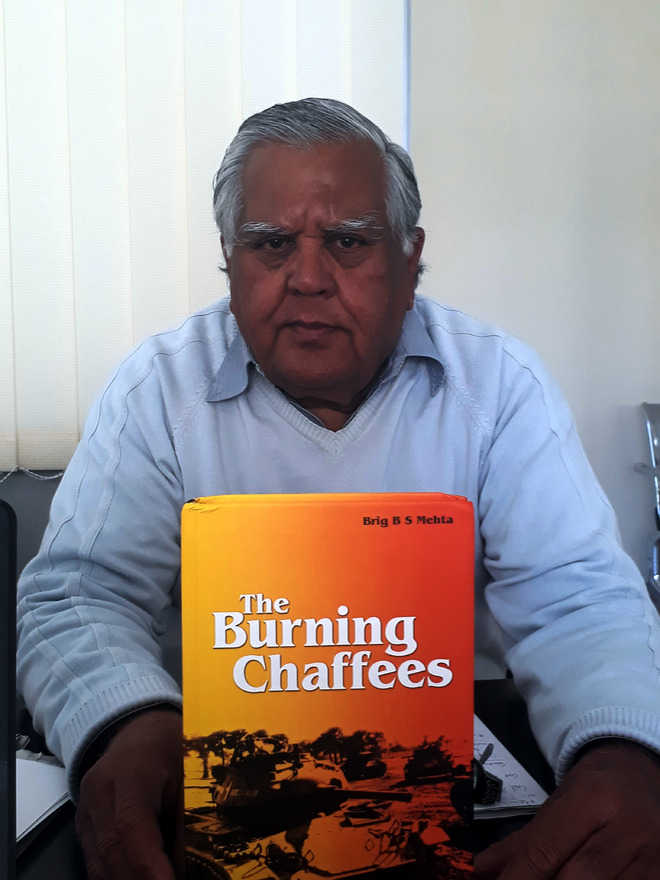 Lalit Mohan
Tribune News Service
Dharamsala, November 13
The Bangladesh Government is planning to honour veterans of the 1971 India-Pakistan war on its Independence Day on December 16 next month. Brig Balram Singh Mehta (retd), who stays in Dharamsala and was part of the 1971 war, said it was for the first time that the Bangladesh Government was planning to honour Indian soldiers who played a crucial role in the independence of the country. Brig Mehta has penned a book 'The Burning Chaffees' on the role of Other Indian Classes (OIC) in the war. While talking to The Tribune, he said the OIC were labelled as non-martial and debarred from enrolling as combatants in the Indian Army till 1947.
However, the Squadron 45 Cavalry that comprised the Other Indian Classes played a major role in the 1971 war. "The squadron which comprised about 60 per cent South Indians and rest OICs of India waged a tank battle with the Pakistan Army on November 21, 1971, that laid the foundation for the war," said Brig Mehta.
He said the Bangladesh Army and the Indian Army formed an alliance on November 21, 1971. The same day the tank battle of Garibpur took place and the Bangladesh Government for the first time was going to honour the soldiers who participated in Garibpur battle and shed blood for the freedom of Bangladesh.
Brig Mehta said though officially the 1971 war started on December 3, on November 21, the Squardon 45 Cavalry equipped with PT-76 tanks crossed about 7 km into Bangladesh territory across the river Kabodak to counter the threat from the Pakistan Army. The cream of Pakistan Army which used to boast that one Pakistan soldier was equal to three Indian soldiers clashed in tank versus tank battle at Garibpur on November 21, 1971, with the Squadron 45.
The Squadron 45 Cavalry of Indian Army in one swoop completely destroyed the 3 (independent) armoured Squadron of Pakistan consisting of 14 American made M-24 Chaffee tanks and mauled two infantary battalion of Pakistan. In the battle, three Sabre F-86 jets of Pakistan were also destroyed. The Indian Army lost just two PT-76 tanks in the battle. With this battle, the plan of General AAK Niaze to attack the Indian Army and Mukti Bahini went up in smoke and the 45 Cavalry that comprised mostly of non-martial races of India wrote a chapter in the history.