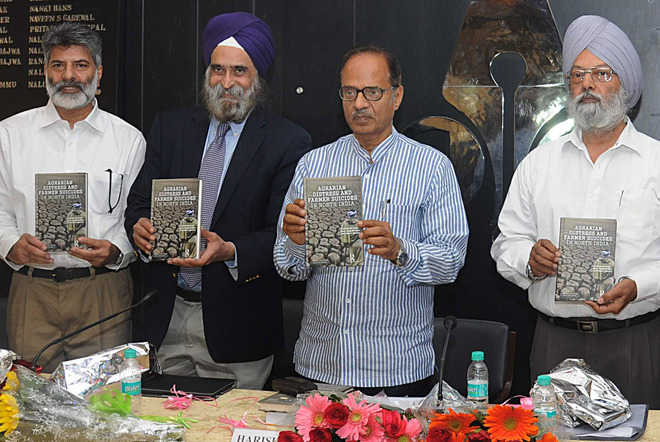 Tribune News Service
Chandigarh, March 23
Speaking on the book "Agrarian Distress and Farmer Suicides in North India", Prof Nirvikar Singh of the University of California at Santa Cruz, today said that suicide by farmers was an emotive issue. Lack of alternatives to diversify in other areas had resulted in a dead-end for the farmers. He said it was not only an economic crisis, but a social crisis too.
The book, co-authored by Prof Lakhwinder Singh, Kesar Singh Bhangoo and Rakesh Sharma of Punjabi University, Patiala, was released at the Chandigarh Press Club today.
Harish Khare, Editor-in-Chief of The Tribune, who was the chief guest, said there was no substitute to quality scholarship. "Good scholar should never be afraid of saying what needs to be said. Whosoever may be the leader, the scholar should never hold back from saying whatever he thinks.
"I would suggest that scholars here (in Punjab) have a greater role as compared to those in other places. It is here that I see a beginning in this work," he said.
Noting that in past establishments had offered a solution to every problem first in the market economy and then in technology, he said, "Punjab has to find its solution within the national framework. Eternal hope lies in the fact that the average Punjabi is progressive and non-conformist."
Veteran journalist PPS Gill spoke on the book "Economic Transformation of Developing Economy." He said agriculture was Punjab's lifeline and needed to be revived. He said the book was an eye-opener for those who wanted to find a way out of the farm crisis. "It embraces a wide spectrum of issues and shows the way forward," he said.
Top News
HM blames Nehru's 'blunders' for Kashmir's sufferings | Oppo...
One of these will vest Guv's Chancellor role with Chief Min...
Two more to put in papers; many likely to land plum roles in...
Meghwal dubbed it as insult to Indian culture