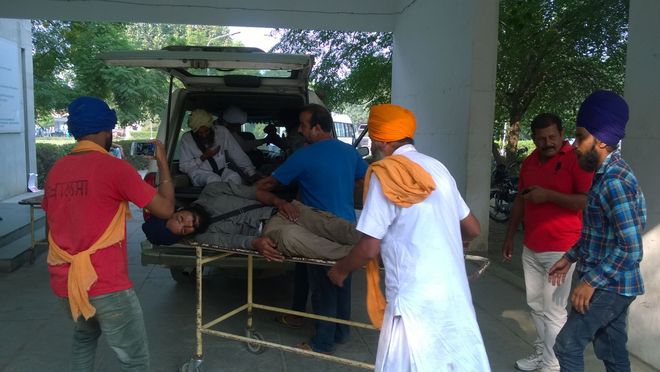 Balwant Garg
Tribune News Service
Faridkot, October 14
Two Sikh activists were killed and over 50 others injured in clashes with the police following the desecration of Guru Granth Sahib 'bir' at Kotkapura early this morning.
Edit: Need for calm
Among those injured was Inspector General of Police (Bathinda range) Jatinder Jain. The police resorted to canecharge, used water cannons and fired into the air to disperse more than 3,000 people who had assembled at an intersection in the heart of Kotkapura since Tuesday afternoon to protest the desecration. The action followed two hours of failed talks between the protesters and senior police officers that left more than 45 persons, including 24 policemen, injured.
Another clash took place at Behbal Kalan village on the Kotkapura-Bathinda road when protesters allegedly hurled stones at the police. Gurjit Singh (27) of Sarawan village and Kala Singh (54) of Niamiwala Khurd village in Faridkot were killed in police firing. Some protesters and policemen suffered injuries in the clash.
The injured were taken to the Faridkot medical college and Kotkapura civil hospital. One of the injured, Beant Singh, was admitted to the DMC, Ludhiana, with critical injuries. More than 10 vehicles, including five belonging to the police, were damaged in the clashes.
The police claimed they acted in self-defence and used minimal force as they came under attack while trying to clear the protest sites. The protesters were armed with sharp weapons, sticks and stones, said Faridkot Senior Superintendent of Police SS Mann. Several police vehicles were damaged by protesters, said Deputy Inspector General (Ferozepur range) Amar Singh Chahal. While the police confirmed they had arrested 34 protesters, reports said more than 100 persons, including Sikh leaders Panthpreet Singh and Ranjit Singh Dhadrian Wale, were rounded up.
Baljit Singh Daduwal, a Sikh leader, who was at the Kotkapura gurdwara when the crackdown began, alleged the police used brute force on peaceful protesters.
After the clashes, dharnas were organised at almost all roads leading to Kotkapura. A heavy contingent of police was deployed in Kotkapura to prevent further protests at the intersection. As a precautionary measure, police force from nine districts was deployed in the district.
In the evening, the police faced difficulty shifting the bodies to Faridkot medical college for post-mortem. The protesters were demanding the custody of the bodies.
While educational institutions in the area, including Kotkapura, Jaitu, Bajakhana and Bargari, were closed for the day, commercial establishments observed a shutdown in Kotkapura town.
Top News
'Democracy flourishes when legislature, judiciary and execut...
AAP wins 134 of 250 wards, BJP 104; Congress reduced to just...
It will all depend on who can hold the numbers in a close co...
Terming the Indian economy a bright spot in the otherwise gl...
Results will determine if AAP will become a national party