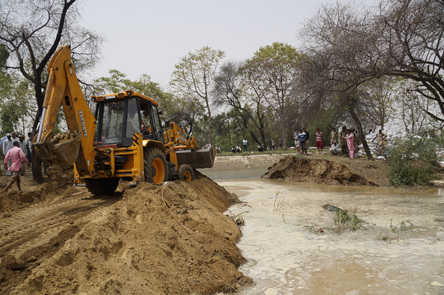 Tribune News Service
Hisar, May 24
Two persons were killed and extensive damage was caused when a massive storm hit the district last night. The storm damaged around 350 electricity poles which affected power supply in many areas in the city and villages, and uprooted nearly 1,000 trees.
The Balsamand branch canal also caved in near the town and flooded several residential areas after uprooted trees blocked the water current.
Shishpal, 13, a resident of Kulana village, died when a tree fell on him in the fields, while Sandeep, 18, of Gangwa village, was buried under a wall that collapsed during the storm in the village.
Electricity poles were damaged in Hisar, Satrod, Balsamand, Barwala and Adampur. Executive Engineer Bhim Sein said Satrod power circle was the worst affected and the power supply was being restored as 300 employees were engaged in the repair work in the district.
Officials of the Forest Department said that over 1,000 trees had been uprooted in the storm in the district. They said around 300 trees were uprooted on the campus of Guru Jambheshwar University of Science and Technology (GJUST) and 200 trees felled in Chaudhary Charan Singh Haryana Agriculture University (HAU) in the town. The uprooted trees were removed from most of the roads, they said.
The breach in the Balsamand sub-branch flooded the residential areas of Sector 16-17, Patel Nagar and juggi areas on the outskirts of the town. Officials plugged the breach after nearly eight hours.
Two die in Bhiwani roof collapse
Bhiwani: Two women were killed and a girl was injured after the roof of a house in Devnagar Balmiki Basti here collapsed due to the strong windstorm in the district on Monday. The deceased have been identified as Bala Devi and her niece Ritu Rani. Sources said they, along with Anchal (4), were sleeping in the house when the roof broke and they were buried under it. They were taken to the hospital where Bala Devi and Ritu Rani were declared brought dead. tns
Top Stories