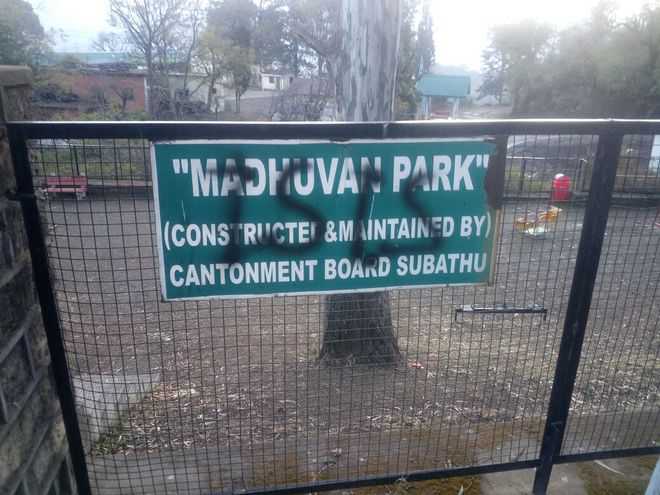 Ambika Sharma
Tribune News Service
Solan,February 1
With little clue in the Subathu Cantonment mysterious 'ISIS' posters' case, the police today interrogated about 20 persons suspected to be involved in the case. Their handwriting samples were also taken and will be compared with the writing on the posters.
Ten posters and five painted messages highlighting the ISIS were found in this town yesterday. Sleuths of the CID, the Information Bureau, the Military Intelligence and police were on their toes to identify the miscreants.
It was interesting to note that spray paint had been used while writing the ISIS on various buildings of the cantonment board while no private building had been targeted. The police were trying to collect clues about the sale of black paint from three hardware shops in Subathu as well as 4-5 such shops at Dharampur.
Since xeroxed copies of handwritten posters had been put up in the town, the police were also making inquiries from such shops.
With no close circuit cameras having been installed, the police had no concrete clue about the wrongdoers. It was come to know that data of vehicles entering the town from the Dharampur side was available with the barrier staff and no information about the vehicles leaving the town from Solan was available after 7 pm.
DSP, Parwanoo, Bhisham Thakur, said 20 suspected persons had been interrogated in this case. The residents had been directed to seek registration of their tenants within two days so as to keep a tab on the movement of outsiders. With the police still groping in the dark about the miscreants responsible for defiling public water tanks with some poisonous substance a few months ago, it was being suspected that the same people could be behind this mischief.
The cantonment administration has also become alert after yesterday's incident and a slew of precautionary measures have been devised.
Chief Executive Officer, Subathu, Tanu Jain, said they had proposed to place 10-15 close circuit cameras and 32 electricity poles, especially in the outer areas, of the town. A budgetary provision had also been made and their locations would be identified soon. She said as a precautionary measure, the public places, including dustbins, had been sanitised. Awareness was being made to ensure verification of tenants with the cantonment board and the police.