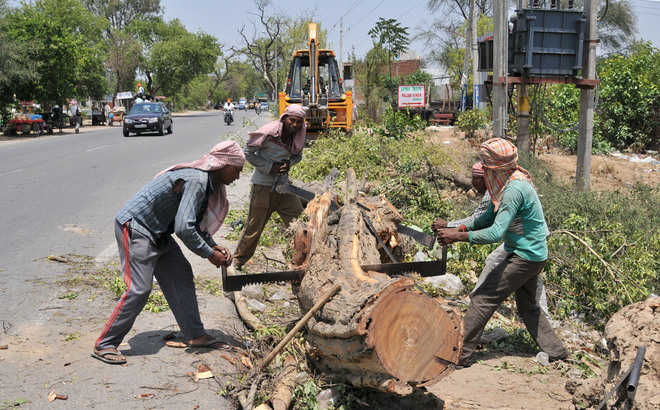 Deepkamal Kaur
Tribune News Service
Jalandhar, May 17
Having acquired nearly 145 hectares of the Forest Department land along the Nakodar-Moga-Barnala road for the four-laning project being executed by the Union Ministry of Road Transport and Highways, the work to axe more than 25,000 fully grown trees has begun along the route.
Most of the trees which are being uprooted using JCB machines include Peepal, Sheesham and Eucalyptus. The authorities claim to have deposited Rs 32 crore for compensatory plantation to the Forest Department for taking the due sanction.
Recently, nearly 24,777 trees were axed along Bist Doab Canal. Environmentalists feel that there are hardly any highways left along which there is plantation for cyclists to take rest under shade.
Principal Chief Conservator, Forests, Kuldeep Kumar said the funds had gone to the GOI account under compensatory forestation scheme. "The government will provide us double the area for forests soon. As of now, we are gearing up to plant nearly 50,000 saplings of mixed trees, including Sheesham, Jamun, Arjun, Neem and Peepal, along gaps between the rejuvenated Bist Doab Canal and the road. The canal work will complete in June and the plantation time will start in July and August," he added.
Top News
Lhonak lake breaches banks after cloudburst, triggering mass...
About unifying the Armed Forces: A theatre command entails h...
Third party leader to be arrested | BJP says Kejriwal 'real ...
Slams arbitrary exercise of powers under PMLA