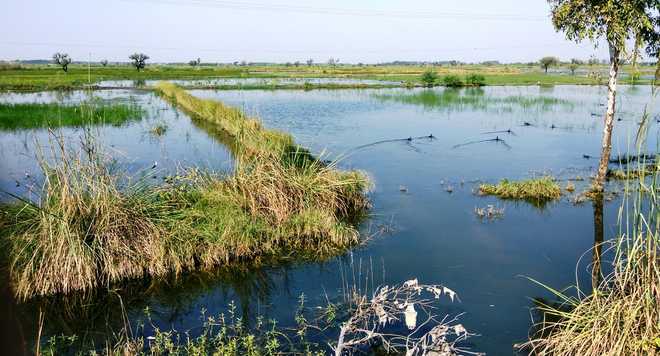 Sat Singh
Tribune News Service
Charkhi Dadri, October 20
According to the Agriculture Department estimate, more than 3,500 acres in Charkhi Dadri villages have been waterlogged for the past few months and it is likely to fail its target of sowing rabi crop.
Jaishree, Kamod, Rawaldhi, Bond, Jhinger, Khatiwas, Dhani Phogat, Samaspur, Imlota, Mirch, Kanheti, Morwala and Mishri villagers in the district have been reeling under the problem of waterlogging.
Randhir Singh, a resident of Dadri, said the problem had been prevailing for six-seven years, but this time it was acute. He said several farmers had turned to labour to make their ends meet as their standing crops were destroyed.
Other local farmers said the authorities knew about their problem, but it had been carrying out the work of draining out the water at a snail's pace.
An agriculture expert said since some villages had been waterlogged for months, the land had started turning barren. Turning it into a fertile land would be a daunting task for the agrarian community, he said.
Krishan Kumar, SDO, Agriculture Department, said a report was being prepared to be sent to the higher authorities.
Badhra MLA Sukhwinder Sheoran said a drain had been approved in Dadri, which would resolve the issue permanently.
Top News
Amritpal Singh is said to have reportedly fled towards Phill...
Several pictures of Amritpal Singh in different attires rele...