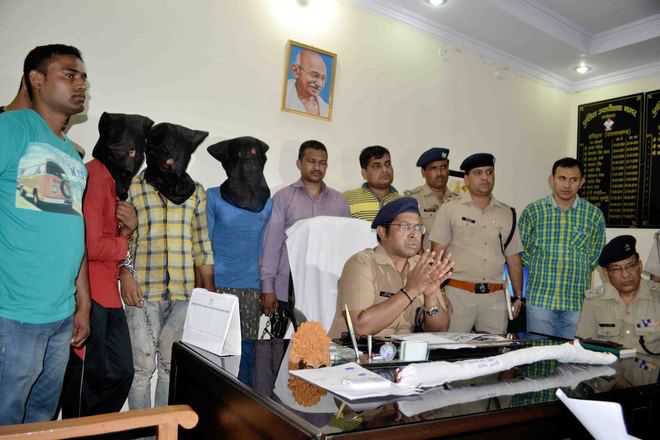 Tribune News Service
Haridwar, June 26
The police arrested three persons here today in a triple murder case. Truck driver Vakil, a resident of Shyamnagar, Meerut; co-driver Akbar, a resident of Sardhana, Meerut; and Chand Mohammed, a resident of Meerut, used to carry goods of Coca Cola depot, were arrested from the Motichur parking.
The three confessed to their involvement in the triple murder, which took place in the Jhabri Peer jungle, near the Tibdi bypass, a few kilometres from the city's congested Chandracharya square.
Haridwar SSP Rajeev Swarup said on June 12, the accused had gone to a mazar in the Jhabri Peer jungle area. They transport Coca Cola bottles in their truck to various parts of Uttar Pradesh and Uttarakhand.
"When they went inside the forest, they met 40-year old Sheela, a resident of Lodhamandi, who had come to collect wooden sticks. Akbar and Vakil first interacted with her and later asked for sexual favour. As Sheela refused, both tried to molest her. Meanwhile, Kanti Devi, 67, resident of Lal Mandir, Jwalapur, who was also in the forest to collect wood, tried to save Sheela. Kanti Devi stuck all three with a wooden log and Sheela managed to escape. This infuriated the three. Chand Mohammed hit Kanti Devi with a stone and she died instantly. They chased Sheela again and in the meanwhile Ram Asrey, a resident of Atauli, Badlapur, heard her cries and confronted the trio. Vakil fired at Ram Asrey and strangulated Sheela with her dupatta," said the SSP.
Circle Officer Prakash Singh Dewli said the police team had recovered the mobile phone of Ram Asrey from the possession of Akbar. It had also recovered from the forest the country-made pistol and the wooden stick used in the crime.
The police team that arrested the accused comprised of City Kotwali in charge YPS Bhadauriya, Sub-Inspector Girish Chand Sharma, Naresh Bisht, Kundan Singh Rana, Anuj Singh, Pradeep Rawat, Sunder Lal, Manish Rawat, Hemant, Shashikant, Umesh, Harveer, Narendra, Vivek and Padam.
Top News
Ethics Committee of Lok Sabha had recommended Moitra's expul...
TMC leader alleges parliamentary panel is being weaponised b...
The observers will visit the states and give inputs to BJP p...
The firing incident of December 3 was caught in a CCTV camer...
Medical College police include the shocking details in their...