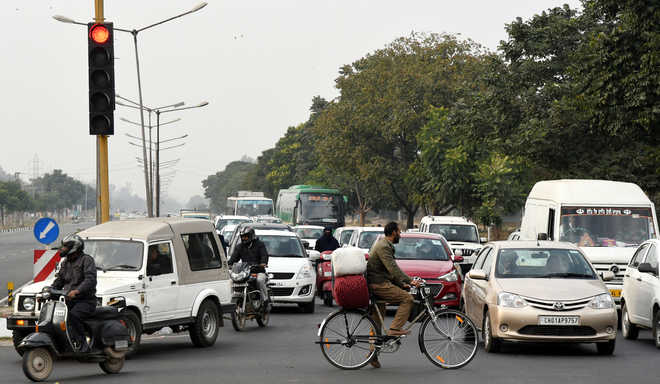 Amit Sharma
Tribune News Service
Chandigarh, January 6
There are 15 accident-prone spots in the city that have witnessed a large number of fatal and non-fatal mishaps. As many as 83 lives have been lost on these killer spots in the past three years.
Among the 15 accidents-prone spots the ones that have claimed the maximum number of lives during this period are the Kalagram light point and Poultry Farm Chowk with 10 deaths each.
Eight lives have been lost at the Sector 45/46/49/50 light point, seven at the Airport light point and six lives each have been lost at the Hallo Majra light point, the Sector 46/47/48/49 light point and the Housing Board light point.
The other accident-prone spots in the city include the Transport light point, the Shastri Nagar light point, the Railway light point, Tribune Chowk, the Kalibari light point, the Sector 38/40 light point, the Sector 25/38 light point and the Sector 44/45/50/51 light point. A police official posted at the Children Traffic Park, Sector 23, where studies on road accidents are conducted, said a particular spot was included in the list of accident-prone spots on the basis of the accidents reported from the spot during the past three years.
Harman Sidhu, president of Arrive Safe, an NGO working for road safety, said the entire focus of the UT Administration was on widening roads rather than finding ways to check the road accidents. "Widening roads is not a solution to control road accidents. I feel the public transport needs to be strengthened to reduce traffic on roads, which will help check mishaps," Sidhu said.