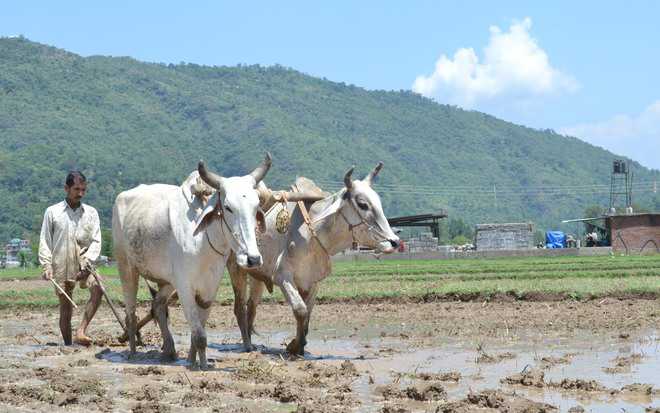 Ambika Sharma
Tribune News Service
Solan, July 27
A state-level steering committee has been constituted for the implementation of the Rs 20 crore Centrally aided project obtained under the National Adaptation Fund on Climate Change (NAFCC) by the Department of Environment, Science and Technology.
Under the project, sanctioned for 77 panchayats of Sirmaur district, as many as 30,000 farmers will be trained in adopting drought-adaptive practices.
Headed by the Principal Secretary, Environment, the committee has members from various departments like the Irrigation and Public Health (IPH), Horticulture and Agriculture. Apart from this, a district-level committee headed by the Deputy Commissioner, Sirmaur, too has been constituted for the smooth implementation of the project.
Dr Suresh Attri, Principal Scientific Officer, Department of Environment, Science and Technology, said they would first study the gap in the implementation of various irrigation schemes, extent of crop diversification and use of water sprinklers as well as the green house usage in the earmarked 77 panchayats. It will also be studied whether water harvesting structures have been constructed. The panel will see if the farmers had been trained for adopting various drought adaptive practices and the extent of the implementation of the schemes of the IPH, Horticulture and Agriculture Departments. An analysis of the gap in their implementation would be taken into consideration to devise the future course of action.
The district suffers from moisture stress with negative livelihood. While preparing the project report on the climate change vulnerability of all six blocks of Sirmaur district, officials have taken parameters like exposure, sensitivity and adaptive capacity to climate change into consideration.
The Sangrah block has been found to be most vulnerable to climate change with its vulnerability score being as high as 0.99. Paonta Sahib and Pacchad blocks'vulnerability stands at 0.94 and 0.91. The vulnerability of Nahan and Shillai was found slightly better at 0.83 and 0.80. The Sangrah block has the worst adaptive capacity to climate change among the six blocks, necessitating the need for maximum interventions under the project
Around 20,000 farmers will be covered under the financial inclusion programmes and 15,000 under the weather insurance programmes. A system will also be developed to manage the agro-climatic risks and agriculture emergencies, said the officials.
Top News
Says unprecedented assault on corruption has angered those w...
As part of the special drive, the regulators have identified...
Behind him, Papalpreet Singh, who is said to be his mentor, ...
Punjab CM accuses Jathedar of favouring the Badals; Giani Ha...
7 others, including Ahmed's brother Khalid Azim alias Ashraf...