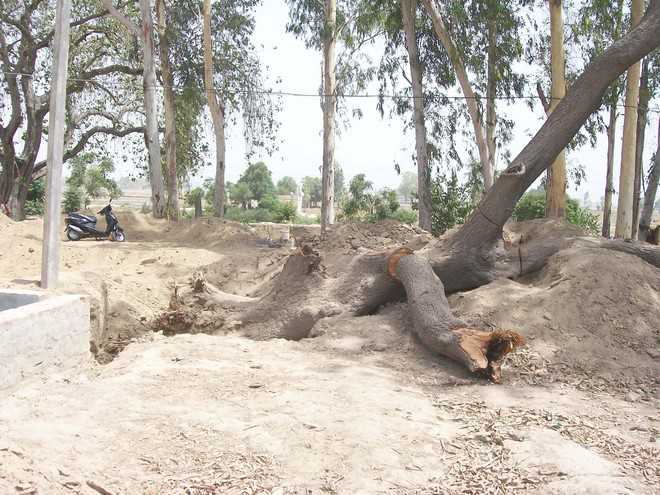 Praful Chander Nagpal
Fazilka, May 22
At least 400 trees planted during the British era in the eco-sensitive zone of Fazilka town adjoining extinct Badha Lake have been axed for constructing the Punjab Urban Development Authority (PUDA) colony.
The cutting of trees and the construction of the colony is in progress, even though the National Green Tribunal (NGT) recently ordered that not a single tree would be axed in the state without its permission.
The state government had transferred 5.5 acres in favour of PUDA under the optimum utilisation of vacant government land scheme in 2011 at meagre amount of Rs 2 crore.
The PUDA decided to raise a colony and allotted 56 freehold residential plots. Residents of Fazilka opposed the proposal tooth and nail. They also launched the Chipko movement (embrace the trees campaign) to save the rare varieties of trees planted more than a century ago during the British regime. The trees were providing a natural shelter to the Fazilka wildlife and also home to national bird peacock.
Following the eco-fragile zone, Vans Pat Agnew, the first British Officer stationed in the area selected this place for setting up surveillance station of East India Company in 1844 and built a bungalow on the banks of the horseshoe lake of Badha on the outskirts of Fazilka town due to beautiful flora and fauna. The bungalow still exists and is currently the official residence of the Deputy Commissioner, Fazilka.
The residents alleged that the impact on the ecology of the town had not been redressed while carving out the colony.
"Fazilka already has less than 1 per cent area under forestation and cutting of old trees has further worsened the situation. The PUDA should plant new saplings in Fazilka to compensate for the loss," said Navdeep Asija, General Secretary of a leading NGO, Graduates Welfare Association, Fazilka.
On May 19, the NGT had asked the government to produce original records pertaining to permission for felling trees, particularly in Nawanshahr and Jalandhar districts. It directed that a senior officer be present on the next date of hearing on July 8 and an affidavit be filed by the Principal Secretary of the department concerned.
Top News
The former military ruler had left Pakistan in March 2016 fo...
After his failed misadventure in Kargil, Musharraf deposed t...
Military shoots down the surveillance balloon in Atlantic Oc...
The incident took place on Friday when Kambli reached his fl...
Dearness allowance for employees and pensioners are worked o...