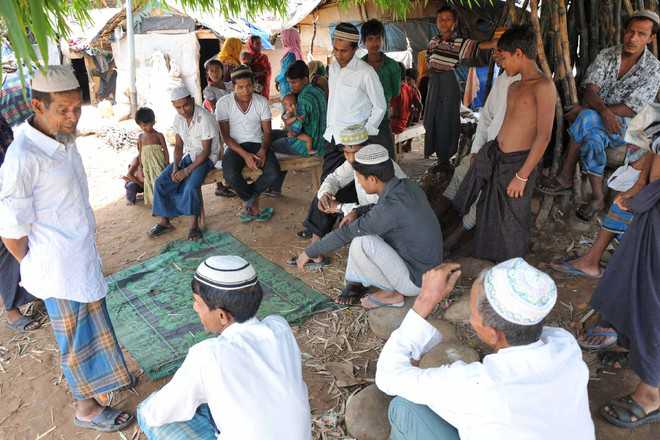 Arteev Sharma
Tribune News Service
Jammu, January 20
Amid the raging controversy over the settlement of Rohingyas Muslims in Jammu, the state government today said they had "entered the state on their own" and there was no instance of their "radicalisation" so far.
"As many as 5,743 Burmese (Rohingyas) are staying in the state. They have entered the state on their own and are staying at various places in the districts of Jammu and Samba," Chief Minister Mehbooba Mufti, who holds the charge of the Home Department, said in a written reply to a question of BJP MLA Sat Sharma in the Legislative Assembly.
The Chief Minister also disclosed that the number of other foreigners staying in the state had gone up to 322 in 2016 from 119 in 2002. "The number of these foreigners was 123 in 2008," she said.
Mehbooba said there were three madrassas in Jammu and 24 teachers had been deployed there for Rohingyas. "No Rohingya has been found involved in militancy-related incidents. However, 17 FIRs have been registered against 38 Rohingyas for various offences, Mehbooba said.
"No instance of radicalisation of these foreigners has been reported so far. However, if any such complaint or information is received, appropriate action as necessary under law will be taken against the individual or organisation concerned," Mehbooba added.
The Chief Minister said some NGOs, namely Sakhawat and SR Institute of Development in Srinagar, Delhi-based Daji and Save the Children were helping the Rohingyas in cash and kind from time to time. "However, strict surveillance is being kept on the activities of these foreigners and the organisations extending help to them," she said.
Top News
The prime minister will dedicate to the nation the Delhi-Vad...
Gandhi's visit comes at a time when there is tension between...
Currently being interrogated, the suspected terrorist carrie...
The police suspect the children were murdered by their fathe...
The note, written in Punjabi, claims nurses had laughed at h...