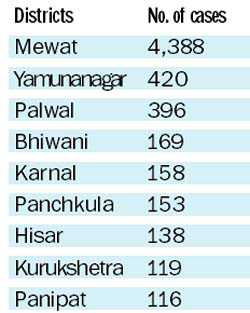 Sushil Manav
Tribune News Service
Chandigarh, September 13
As many as 6,581 cases of malaria have been reported from the state till now. Over two third of these cases have been detected in Mewat alone followed by Yamunanagar, Palwal and Bhiwani.
A total of 4,388 patients suffering from malaria belong to Mewat district which recorded 6,600 cases last year. Of these, 281 cases are of more serious Plasmodium Falciparum (PF) type. Last year 4,387 cases of malaria were detected of which 167 were of PF type.
Some of the districts where more than 100 cases of malaria have been reported are — Yamunanagar (420), Palwal (396), Bhiwani (169), Karnal (158), Panchkula (153) and Hisar (138), Kurukshetra (119) and Panipat (116).
A maximum of 85 dengue cases have been detected in Ambala followed by Panchkula (58) and Gurgaon (41).
Nine cases of Chikungunia have also been reported in the state so far.
Dr Vijay Kumar Garg, Director (Vector Borne Disease), said the department had deployed 200 mosquito breeding checkers on contract basis. Besides, 45 multipurpose health workers have been deputed in Mewat from other districts of the state.
Garg said Rapid Diagnostic Tests (RDT) kits had been distributed among ASHA workers and health inspectors to conduct preliminary test.
He said the department paid Rs 90 per case to ASHA workers to administer treatment to malaria patients for 14 days in their presence.
Top News
A cavalcade of seven security vehicles took Harjit Singh fro...
Mobile internet services in the remaining areas of the state...
2 bearded men wearing a cap poured flammable material at the...
Indian-Americans express outrage at the incidents of vandali...
Pentagon provided real-time intelligence to Indian Army on I...