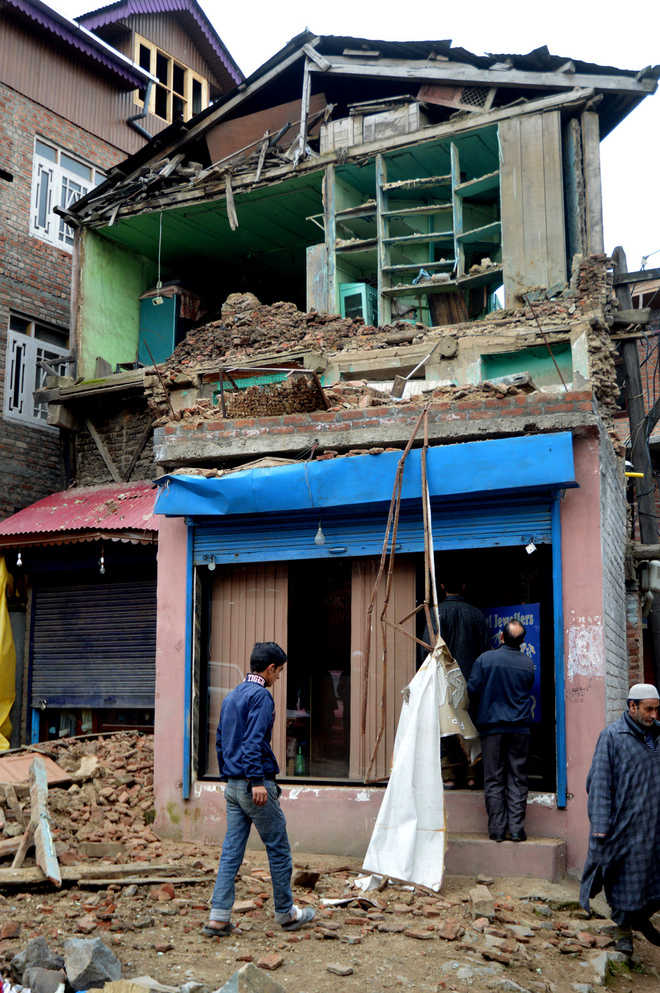 Tribune News Service
Srinagar, April 10
The Kashmir valley was hit by a 6.8-magnitude earthquake this afternoon. The quake shook houses and buildings in the region and sent panicked residents rushing out for safety.
An official of the state Meteorological Department said the tremor was of 6.8 magnitude and its epicentre was located at a depth 190 km in the Hindu Kush region of Afghanistan.
The earthquake was recorded at 3.38 pm. There was no immediate reports about damage or casualties caused by the tremor.
Kashmir has been hit by a series of high-magnitude tremors over the past months and the earthquake today was the eighth noticeable tremor in the past six months.
The region was hit by three tremors of magnitude 5.8, 5.5 and 5.8 in January this year and witnessed three tremors of 4.7, 6.5 and 7 magnitude in December last year.
On October 27 last year, a 7.5-magnitude earthquake had hit the Valley. All tremors had their epicentre in or around the Hindu Kush region of Afghanistan.
Experts have said the increasing tremors in recent months was not worrisome for Kashmir as the epicentre was located at a distance from the region.
Most parts of the Kashmir valley covering the districts of Srinagar, Ganderbal, Baramulla, Kupwara, Bandipora, Budgam, Anantnag and Pulwama, and Jammu division's Doda, Ramban and Kishtwar districts fall under the highest-risk Seismic Zone V.
In October 2005, a 7.8-magnitude earthquake, which had its epicentre near the Line of Control, had killed nearly 80,000 people and flattened Uri town in north Kashmir.
Top News
After the accident, people gathered around the temple lookin...
India reports 40 per cent jump in new Covid cases
The H-1B visa is a non-immigrant visa that allows US compani...