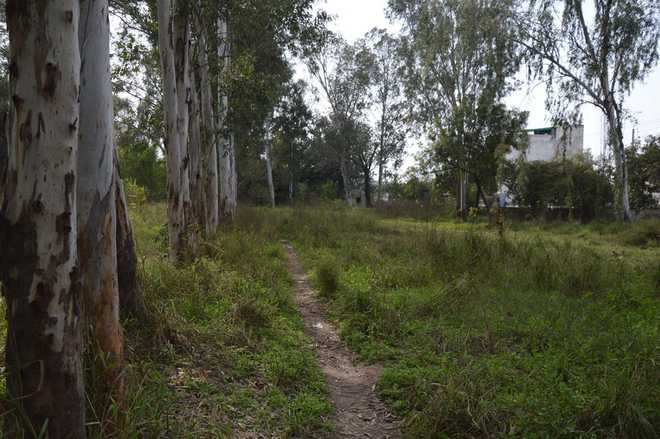 Shivani Bhakoo
Tribune News Service
Ludhiana, March 1
The state government launches campaigns such as "Nanhi Chhaan" with great enthusiasm but soon the "true" spirit behind these drives starts fading away. On one hand the government distributes saplings to encourage plantation, on the other it has decided to convert a green area into a test centre for aspirants of driver's licence.
Sources in Chandigarh said an agreement had been signed to use one acre of green land in the heart of the city for setting up the test centre. The land is a part of SCD Government college property, near the school for meritorious students. The college authorities have "agreed" to provide the land on lease for 20 years at a rate Rs 5 lakh per acre with 10 per cent annual increase.
"It is so disturbing. The state government is after the green cover. The PAU, SCD Government College, Rakh Bagh and the Government College for Girls having greenery all over are lungs of the city. Now, at least 600 trees will be axed to construction tracks at the proposed test centre. The government is bent on damaging the green cover," said a retired Professor of SCD College.
Another resident said the centre could have been set up at any other place. "It is the heart of the city with the school for meritorious and SCD College around. Once the test centre becomes functional, so many people will visit the place, which will disturb educational atmosphere here. Second, this is already a congested area with educational institutions and Hero DMC situated here. It should not be made further congested," said another Professor.
Confirming the development, Ashwani Sharma, State Transport Commissioner, said an agreement with college had been reached and tenders floated. "The trees will be axed to make space for tracks. Construction will start in July or August," said Sharma.
Top News
Voting for final phase of Gujarat polls ends, counting of vo...
'You (government) are only filing FIRs, but according to you...
Final voting figure expected to rise further as collecting d...
BJP ruling civic bodies since 2007, won 181 of total 270 mun...
The Delhi govt opposes the Centre's plea saying it will only...