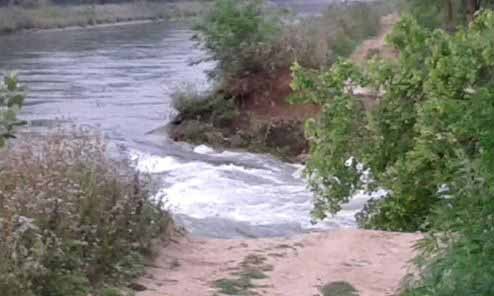 Our Correspondent
Yamunanagar, April 12
Water logged in hundreds of acres of land with wheat crop and vegetable plantation in Nachraun, Palewala and Alahar villages falling under the Radaur Assembly segment in Yamunanagar district after 75-feet long breach occurred in the augmentation canal today.
Farmers from the affected villages, led by Babu Ram Gundiyana, state coordinator, Bhirtiya Kisan Union, and Sanju Gundiyana, district president, staged a demonstration at the breach site.
They demanded action against the officials responsible for the breach.
They were pacified after state Minister for Transport and Tourism Karandev Kamboj assured them that he would meet the Chief Minister and make efforts for maximum compensation for them.
Jagmohan Singh, Chief Engineer, Irrigation Department, Yamuna Water Services (North), told The Tribune that an enquiry had been marked to superintending engineer (vigilance), Rajiv Bansal, to ascertain the cause of breach.
The villagers said they came to know about the incident about 4 am, when a group of labourers sleeping in the room of a tubewell, situated in the fields of Shri Gopal of Palewala, informed them that the area had submerged in water due to breach in the canal.
DC SS Phulia, SP Arun Singh, SDM Jagadhri Prem Chand, DRO Satish Bhardwaj and officers of the Irrigation Department rushed to the spot after being informed.
Sources said the officers of the Irrigation Department stopped water supply in the augmentation canal from Hamida Head, Yamunanagar, and diverted the water in the Western Yamuna Canal at 6:45 am.
"Our wheat, mustard and tomato crops have been damaged," said Shiv Charan Rana, Binder Rana, Rajbal and Mahipal Sharma.
Executive Engineer of Indri Water Works Service Division, Karnal, Munish Sharma, under whom the area of the canal fell, said the repair work was being undertaken on war footage to complete it as early as possible.
DRO Satish Bhardwaj said a team comprising five patwaris had been deputed to assess crop loss caused by the water.
Top News
International body objects to 'undue influence' from 3rd par...
Russia has repeatedly threatened to fine sites - including G...