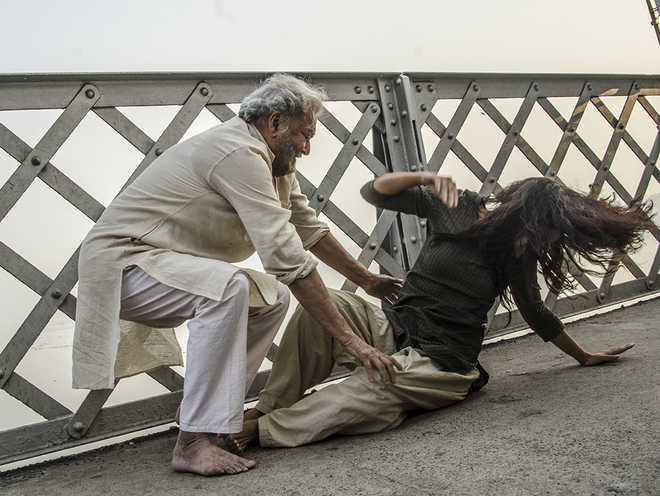 Shoma A. Chatterji
Bridge is the story is about two individuals, Santanu (75) and Tanuka (30) who suffer from deep chronic depression. They do not know each other but happen to meet by chance on the Bally Bridge, some kilometres away from Kolkata in Bally where both have come to commit suicide by jumping off the bridge.
When Santanu sees that Tanuka is about to jump off the bridge, he pulls her away and takes her with him to his lonely home in Bally, a Kolkata suburb. Their journey together and in their distinctly different ways to arrive at a common conclusion that depression may not be curable with medical and clinical help but through a sense of belonging to someone you can stretch your arms, touch, feel and understand, even if you are not talking to each other at all.
Bridge is the first full-length feature film by Amit Ranjan Biswas, a qualified psychiatrist, settled in London since 1997. He works as a consultant adolescent and child neuropsychiatrist and senior lecturer leading a specialist, multi-disciplinary team.
The word "bridge" here has several meanings other than the normal, commonly understood one i.e. a manually or mechanically constructed bridge that physically joins two separated spaces, and also, a "bridge" that joins two individuals or groups in any random order through blood ties, friendship or professions, and so on.
"I am a firm believer that 'recovery' is not just about reducing "symptoms". Instead, "healing" needs to happen in different dimensions beyond the physical. It is the bonding between individuals, selfless offering of support, help and friendship that can bring about powerful healing across all levels," says Dr Biswas, who made the film on a shoestring budget after it took him five years to garner the funds.
Bridge, which has won 12 international awards, premiered in London at BFI South Bank in the London Indian Film Festival. The Academy awards committee has highlighted Bridge as the best among the top two performances by Soumitra Chatterjee — while he was called to Academy in 2018 as member — one is Aranyer Dinratri (Satyajit Ray) and the other one is Bridge. Bridge has been showcased in various universities of the world, including Michigan University, Salamanca in Spain, etc. to create meaningful dialogues on mental health as well as underline the importance of kindness, hospitality and compassion in our times.
The director has given a completely against-the-grain image to Soumitra Chatterjee who plays the old man — scruffy, unshaved with white hair, always sad and disgusted with anti-depressants he has been gulping for 10 long years without break. But in the film's present, we find enamel covers with capsules strewn across his room.
Actress Sandhya Mridul has portrayed the role of the young woman, Tanuka, who does not utter a single word throughout the entire film and curls away into herself whenever anyone comes close to her. Her dreams and flashbacks are filled with severe physical torture alternated with the figure of a little boy slamming the door either from inside or outside. We find that she was severely tortured by her husband when he comes with the police to fetch her and she tries to hang herself with the rope of the well in the compound.
The film spells out suggestion which leads to a deep sense of empathy for these two lost souls. Santanu's wife and only daughter's deaths are so understated that you may miss these if you are not too observant. Clinical details of their depression are left out because, ultimately, they do not need any clinical help — they have found each other. One of the most emotionally touching films one has seen in a long time.
Top News
In Mizoram, Zoram People's Movement is locked in close race ...
Defence acquisition projects include procurement of 97 Tejas...
India has constituted a probe team to investigate allegation...
Nikhil Gupta, 52, has been charged with murder-for-hire in c...
GDP growth in the first quarter of current fiscal — April-Ju...