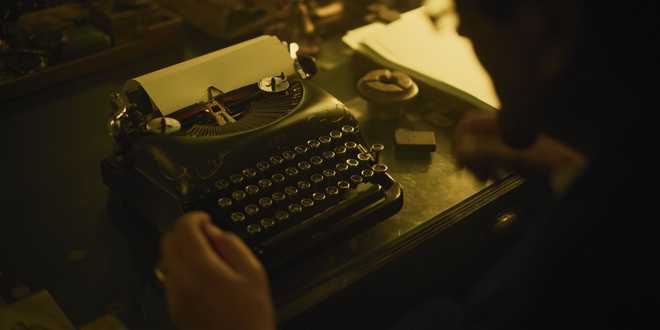 Gautaman Bhaskaran
According to Sujoy Ghosh, he grew up reading Enid Blyton. Unlike her plots, which were pretty much straight and simple, Ghosh wanders along with his Typewriter into roads littered with dead bodies. There is blood and gore here
Eerie thrillers have always fascinated us, and director Sujoy Ghosh appears to have been particularly so, given his basket of films. While the Vidya Balan-starrer Kahaani, followed by Kahaani 2 as well as Badla were adult stories, which gripped audiences with their racy narrative, dipped in pulse-pounding excitement and twisty climaxes, the auteur's latest outing, Typewriter, is about four children and their pet dog, Buddy.
A Netflix original, Typewriter is uncannily reminiscent of the Enid Blyton adventures that enthralled children in the 1950s and the 1960s. The British author's series — The Five Find-Outers, set in the fictional town of Peterswood, and The Famous Five unfolding on the picturesque Kirrin Island — much like Ghosh's Typewriter — had children trying to crack a theft or solve a disappearance or bust a band of smugglers. But Ghosh takes us beyond these to the world of spirits, setting his story inside a haunted house in a desolate part of Goa.
In one of his interviews, Ghosh said he grew up reading Enid Blyton and his works are influenced by her. But unlike her plots, which were pretty much straight and simple, Ghosh wanders along with his Typewriter into roads littered with dead bodies. There is blood and gore here. Setting his five-episode web-series mostly in the sprawling Bardez Villa, he quickly pushes the viewer into a creepy crevice. The villa looks ghostly, and Typewriter creates this mood by offering us snapshots of the place, dim lit and dangerous.
The picture gets murkier and things start to spin out of control when a family of four moves into Bardez. Peter Fernandez (Samir Kochchar) has just got a job in Goa. The family decides to live in a villa owned by Peter's wife, Jenny's (Palomi Ghosh) grandfather, Madan Mathews (Kanwaljit Singh). Mathews is a novelist specialising in supernatural stories — the most famous being The Ghost of Sultanpur. The family is blissfully unaware that the place has been taken over by a ghost.
Incredible as it may sound, the protagonist in the web-series is a rickety old typewriter that Mathews once used to dash out his frightening figments of imagination. And cut to present day, the machine still stands in what was once Mathews' study. Fernandez's daughter falls in love with it and insists that it stays on as an heirloom.
However, when the typewriter keys begin to clatter all by themselves in the dead of night, the narrative begins to pan across towns and generations — transforming the four children, Sameera Anand (Aarna Sharma), Bunty (Palash Kamble), Gablu (Mikail Gandhi) and Nick (Aaryansh Malviya), into wannabe sleuths. Sameera's policeman father, Ravi Anand (Purab Kohli), also gets into this ring of mystery and mayhem, but often finds himself several steps behind the children.
The core idea of a typewriter typing out a tale of revenge and retribution is marvellously novel. The visuals heighten the unease, and Goa cannot but be a perfect place for a tryst with the ghost.
However, the writing is patchy and convoluted. There are way too many characters, and some soaked in bloody mess. Ghosh does not quite build them up either. Mathews is one, and Fernandez is another. This young man's extramarital dalliance appears absolutely unnecessary. All these get us perplexed, and make the series unsuitable for young viewers. And Miss Enid Blyton flies out of the window!
Even performances are passé. The children look wooden, lack the energy that kids are naturally endowed with. There is not much coming either from the men, but Palomi is just splendid as a woman hanging between a horrific past and a happy present. The end shows it all, also leaving room for more episodes. But, Ghosh needs to work harder to get his audiences into a more mesmeric mood.