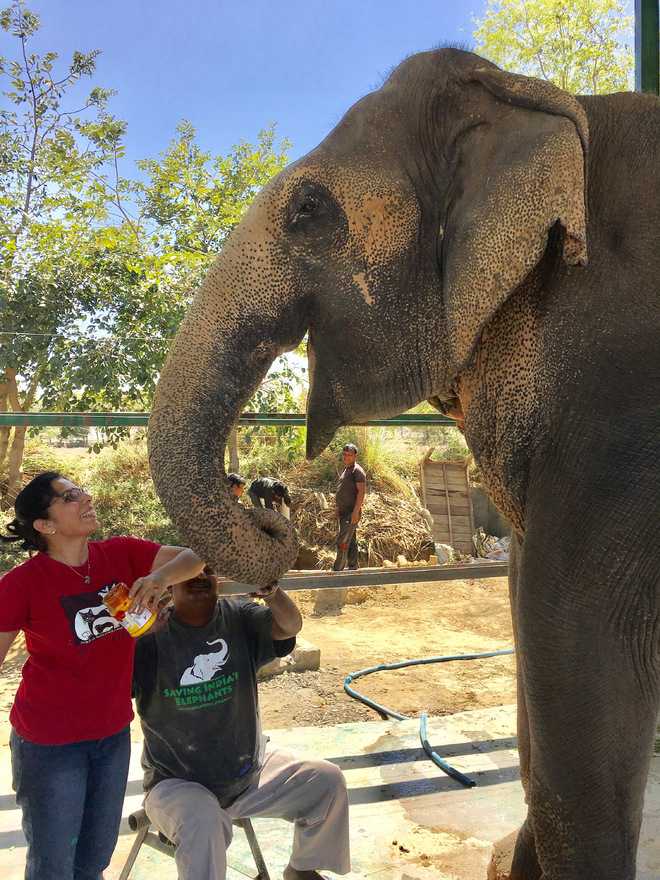 Vandana Aggarwal
At first glance, it seems like a bright smudge on the canvas with no meaning to it. Look closely and palaces or elephants may show up in the background. Called Padhchinh, over 250 of these paintings have been sold, raising thousands of dollars for the Wildlife SOS. Literally translated, padhchinh means footprints in Sanskrit. Avid nature lover and Singapore-based artist Alpana Ahuja estimates that she, in collaboration with the rescued elephants at Wildlife SOS, must have created at least 300 of these elephant footprints so far. For her they symbolise the elephants walking away from a miserable existence towards a better future.
As someone who has always been drawn towards animals, it was a natural progression for Alpana to work towards saving wildlife. Her childhood friends remember her as someone who would always be saving baby squirrels and birds. During a chance visit to the Elephant Conservation and Care Centre (ECCC) at Mathura, Alpana was blown away by the phenomenal work Wildlife SOS was doing. "I was particularly impressed that this was happening in India," says Alpana. Deeply affected by the plight of these gentle animals that were being kept in captivity and treated cruelly, she decided to use her artistic talent to help them. Her first project was a table calendar.
When Kartick Satyanarayan and Geeta Sheshamani, co-founders of Wildlife SOS, came up with the idea of Padhchinh, it was a kind of epiphany. "Here we were worshipping Ganapati, the elephant God, and, at the same time, treating the elephants so cruelly. I had to do what I could," she says. The initial suggestion was that the mahouts would get the elephant footprints and send them to Alpana to complete, but she was clear she wanted to be involved in the whole process.
Alpana visits the ECCC several times a year and has an almost assembly line production plan in place. She usually works with an elephant called Phoolkali though other elephants stand in from time to time. Phoolkali is blind in one eye and in constant pain due to walking on concrete for decades. Alpana, however, has developed a special soft corner and rapport with Phoolkali. They get down to work aided by a couple of staff members who are comfortable with the elephant. While one person keeps the animal distracted with treats, the mahout give instructions to the elephant to pick up its foot.
As all elephants at Wildlife SOS are checked by veterinarians for foot problems regularly, this is something they are adept at doing. However, it is quite a messy process. The trick, says Alpana, is to catch these gentle giants in a good mood. Alpana applies just the right amount of paint and in the correct consistency to the foot. The canvas is then slid under the foot and the elephant brings its foot down on it. They do spoil some canvases sometimes, reveals Alpana. The print may be smudged or the canvas may slide away. Sometimes the animal has had enough and just walks off. The whole process revolves around the mood of the elephant. There have been occasions when the elephants chose that moment to pee, or peanut shells and grass being offered to the animals as treats fall on the canvas. Since they enhance the entire piece, Alpana uses her artistic imagination to incorporate them in her final work. The next step is to let the canvas dry after which cleans the dust off them touches up the background and applies a sealant. In some, she adds an interesting background. The result is a unique one of a kind image that is either sold or auctioned.
Alpana is particular about cleaning the foot of the elephant herself not leaving anything to the mahouts. Not one to sit still, the indefatigably Alpana even painted murals on the containers that house the conservation centre.
Towards a better future
In 2014, Alpana's first exhibition Ganapati to Gajah was inaugurated in Delhi. Since then she has held several exhibitions and painted another series called the March to Freedom in which the Amber Fort of Jaipur is clearly visible in the background. Amber remains one place where elephants are still used to take tourists up to the fort and this annoys her. "We have made animals such a commodity," says Alpana who does not charge a penny for her work and all the money raised through her art work goes towards the rescue and care of elephants.
Through the sale and public auction of her paintings, Alpana has not just raised funds for the pachyderms but also created awareness about the plight of captive elephants. In 2018, a Padhchinh was presented to Canadian Prime Minister Justin Trudeau when he visited the centre. American rapper Pharrell Williams also owns a Padhchinh.
In Singapore, Alpana is a volunteer and board member with Animal Concerns Research & Education Society (ACRES). Here too she creates merchandise for fundraising and actively rescues animals that have ventured from their natural habitats into the concrete jungle. She says Singapore is a great example of how animals and people can cohabit. That is only because people are educated and aware of wildlife. "Animals don't have a voice we have to give it to them. Immense cruelty is meted out to animals. I wish I had a magic wand to change their lives and apologise to them for what we humans have done to them," says Alpana passionately.
Top News
The Khalistan sympathiser had failed to take control of the ...
Hosts India matched their best-ever performance with 4 gold ...
Martyr PM's son who walked for national unity can never insu...
Warning systems alerted the pilots whose timely action preve...
Nat Sciver-Brunt smashed an unbeaten 55-ball 60, while skipp...