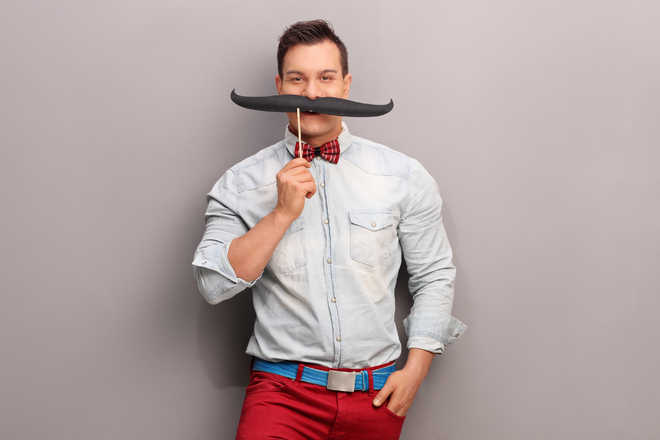 Mona
Moonch nahi to kuch nahi...if you suddenly see the sentiment being played up all over...inflated moustaches on buildings, planes, fliers, whatsapp groups - well guys, it's time to celebrate Movember. Right, no November, but Movember!
To simplify, it is the 'moustache' November that alternatively goes with the 'dirty thirties' title, the tash here being an insignia to raise awareness about men's health issues – physical and mental. While 'pink' is symbolic for breast cancer awareness; moustache is yet to catch up, at least in this part of the world.
Prostate cancer is as grave a threat to men as breast cancer to women; and contrary to the popular notion, men suffer from mental health issues more than women. Probably the catch lies in women being expressive even at the cost of being labelled 'sentimental' and men bottling up their emotions inside, to keep up a tough exterior.
Do we actually need Movember here? Let's find out...
Data from the National Crime Records Bureau puts the record straight. Close to 90,000 men committed suicide for various reasons in 2014 as against about 42,000 women. While, at least noise is being made about women taking their physical and mental health seriously, men are thought to be looked after well. But are they?
"Men are supposed to be rough and tough but actually both sexes need to take care of their physical, mental being equally well," says Ojaswee Sharma, a computer engineer-turned-filmmaker. Heath is a priority for this handsome hunk and he is more than open to any initiative that brings health issues to the fore. "Not gender specific, any effort that supports the cause for staying fit, I am in," shares this filmmaker who was forced to do away with his painstakingly grown moustache and beard to look 'presentable' this Diwali.
Pick up any international trend and trust Punjabis to follow it to the T. No wonder, it's just the beginning but the young Turks are already making a beeline for the salons. Informs Rachit Malhotra, creative director, Femina Plus, "Movember offers a break for men from their regular looks. Moustaches and beards are in vogue and our patrons want it to look stylish all the time, so we have an increased footfall in this month."
A fancy thing fused to something constructive is what made Amit Sharma take the Movember challenge. "Believe it or not, talking helps. Having something like a 'moonch' is an added plus to the look," shares this entrepreneur who takes his exercise seriously and this year on as he enters 40s aims to take health checks seriously too.
A global call, Movember finds favour with consultant psychiatrist Parmod Kumar. "This movement aims at early detection and intervention not only for prostate cancer but also mental health issues that the society is slowly opening to." Recently celebs like Karan Johar and Hrithik Roshan opened up about their battle with depression; it's high time that such attempts are made. "Pink today is talking point for cancer, as is moustache in November. Preventing suicide is one of the prime objectives of this movement and timely counselling sure can come handy here."
mona@tribunemail.com