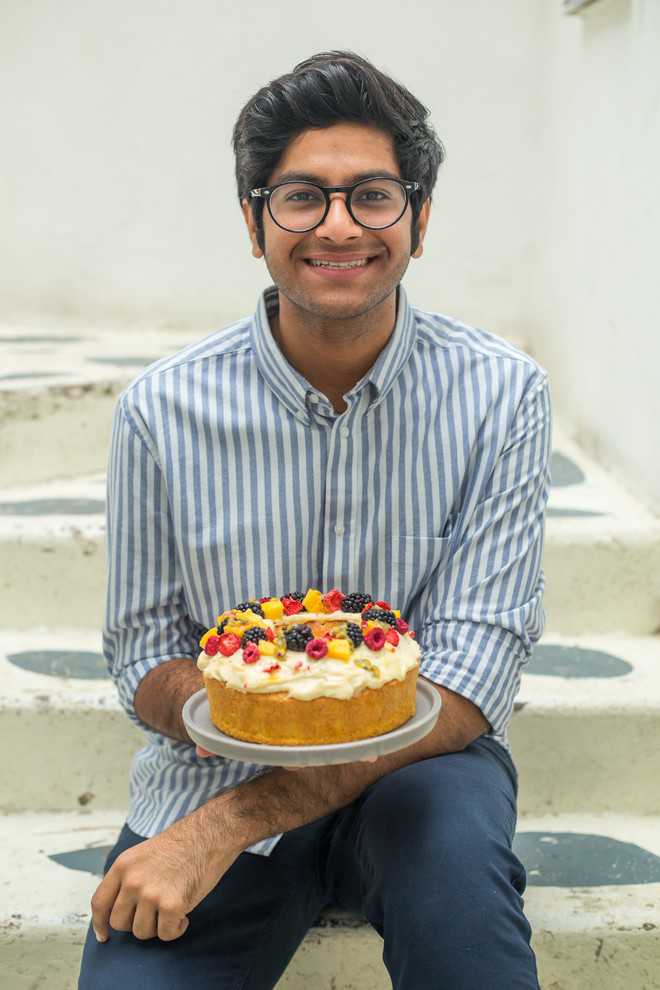 Neha Kirpal
The 200 pages of the debut book by Shivesh Bhatia are not meant to tell his story. What these mention is easy recipes of 54 delectable desserts, covering cakes, tarts, pies, cookies, pavlovas, cheesecakes, mousses, muffins, choux pastries, brownies, biscottis and bars by the 22-year-old young baker.
Not that the story of his life is extraordinary. But, it is worth knowing. Worth for it imparts a subtle lesson that failures when followed by failures — in this order, several times — can at some point take a direction towards success.
One of the youngest and most popular food bloggers and social-media influencers of the country, Shivesh got early lessons in baking from his maternal grandmother and mother. "My grandmother would bake a vanilla and a chocolate cake for me. So, I basically grew up eating homemade cakes," he recalls.
When he was 16, his grandmother suffered a paralytic attack, post which she could never enter the kitchen again. That pushed him to take to the baking tools. "And I realised what a horrible baker I was. Even though I used premixes and readymade frosting, unlike my nani, who baked a cake from the scratch, I could never get it right."
Each time, it turned out to be a disaster. "My cousins and I ended up with a batch of burnt cupcakes, always." But, it was the experience that egged him on. "More than the destination, I enjoyed the journey," he adds. Shivesh kept practising and reading up on baking before finally getting the hang of it. In the process, he also clicked quick shots of his desserts from his phone camera and shared those with his friends.
On Instagram, his stories were about his baking experiments and successes. His pictures gradually began getting a response from random people. "I understood the scope of social media. I also discovered the concept of food styling and photography, and fell in love with it." In no time, he had a fan following. Today, his Instagram account boasts of over 1,12,000 followers.
In 2016, Shivesh won the Outlook Social Media Award. In 2017, he won the award for 'Social Media Star of The Year' by Conde Nast Traveller and the Best Dessert Blog by Better Homes and Gardens. This year, he won the Best Food Instagrammer at the Living Foodz Epicurean Guild Awards. Shivesh has been in Vogue's list of 20 under 26 and was also one of five bloggers invited by Foxlife India to meet Chef Gary Mehigan when he visited India.
A celebrity baker now, he has been featured in several other lifestyle magazines. The latest feather in his cap is his debut book to be published by HarperCollins this month. It includes recipes for healthy, eggless, gluten-free and vegan recipes.
The book also has a detailed section on food styling, a concept he has mastered. In it, he shares tips and tricks that he has learnt over the years — sourcing props, composing a frame, different backgrounds one can use, types of fabrics, how to add texture, height and depth to one's frame and dressing the food right. There is also a tutorial on painting backdrops for food styling along with step-by-step images. Shivesh maintains that food styling is not something that one can master overnight. "Like every other skill, it requires constant improvisation. The more you do it, the better the results you get."
Apart from this, Shivesh also conducts many baking and food-styling workshops. He isn't sure if baking will turn into his full-time profession. Currently he is pursuing masters in advertising and PR. "Whatever profession I will be into, I will continue blogging." It allows me the freedom to do a bit of everything he loves to do — photography, writing and most importantly baking.
Top News
Warning systems alerted the pilots whose timely action preve...
Martyr PM's son who walked for national unity can never insu...
Says Rahul Gandhi's disqualification culmination of lawful p...
Indian Ambassador to the US Taranjit Singh Sandhu was not in...
The Khalistan sympathiser had failed to take control of the ...