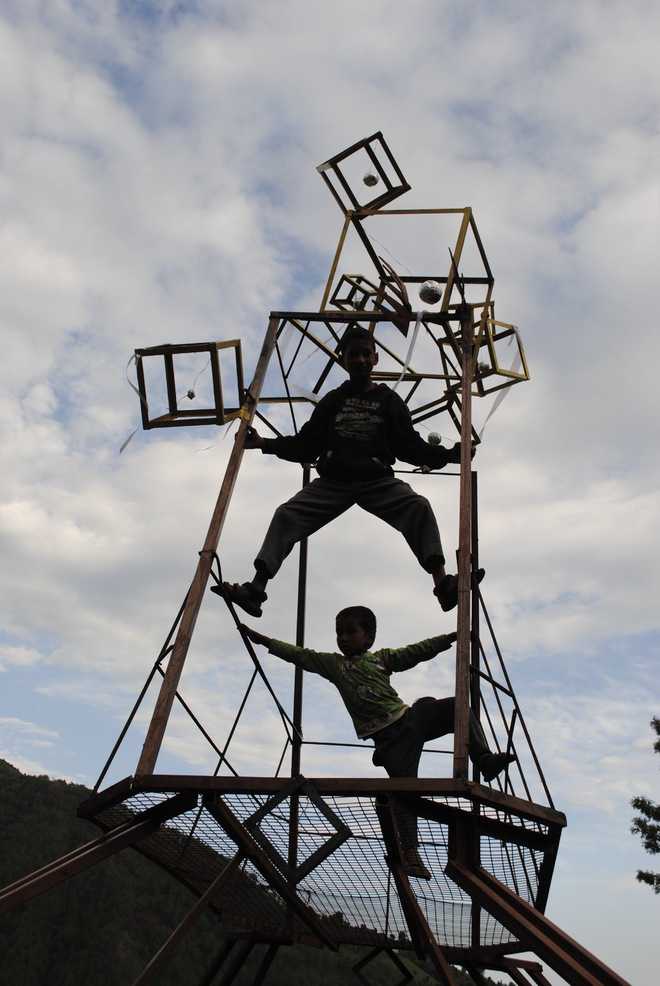 Having earlier lent its name to a school of miniature paintings, the Kangra Valley in Himachal Pradesh is no stranger to art. Encouraged into prolificacy by patrons from the princely houses of Guler, Chamba, Bilaspur, Nurpur, Kangra and Basohli (in Jammu & Kashmir), this form of pictorial art together came to be dubbed the Pahari style. It would continue to find patrician favour and commission for nearly 200 years from the 17th to 19th century. In 1924, Norah Richards, the Irish playwright and actor affectionately referred to as 'Nani of Punjabi Theatre', added to the arty allures of the region. She founded an artists' collective in Andretta village, not far from the tea plantation replete town of Palampur. Come March, she would host a week-long festival of Punjabi plays in an open-air theatre in front of her house. It would reverberate regularly with the booming baritone of a young Prithviraj Kapoor, an Indian cinema legend nonpareil.
Over time, this Himalayan hamlet, hemmed by the Dhauladhar mountains, turned into a retreat for luminaries from the art establishment. The celebrated portrait painter, Sobha Singh, best recognised for his depictions of the Sikh Gurus and folk legends, made Andretta his home after Partition. Many of his works, produced during his four decade long stay, are on display at the family-run Sobha Singh Art Gallery here. Gurcharan Singh, studio potter and founder of Delhi Blue Pottery, visited Sobha Singh often and eventually moved to these sylvan surrounds. Another virtuoso who was to call Andretta home was the doyen of Indian art, BC Sanyal. Founder of the Lahore School of Fine Arts, he was instrumental in setting up the Woodlands Estate Society that oversees the running of the Norah Centre of Arts and Norah's Home.
Modern art, traditional milieu
Now, another village in the Kangra Valley has captured the imagination of the curious and the creative. Located near Bir, the international paragliding hub, Gunehar has been hosting the intriguingly christened ShopArt ArtShop (SAAS) conceptual arts festival since 2013. This disruptive triennale featuring emerging artists seeks to take modern art outside of the precincts of its usual urban habitat. It requires artists to live in the village, engage with its residents, spaces and traditions. It also asks them to work in the full glare of villagers, an inclusive mandate that allows the latter to experience art as a creative process and not just as a finished artwork. There could not have been a better venue than the commercially unviable shops awaiting bleak futures as dank depots, Frank Schlichtmann had observed one nippy morning while strolling around the bucolic setting he had called home since 2012.
Of mixed Indian and German parentage, the art-loving filmmaker and culinary enthusiast moved to Bir in 2008 to set up the 4tables Café & Art Gallery. After initially papering walls with collages he made himself, he scouted \for artists he could exhibit, to the disappointing realisation that contemporary art was an alien concept in these parts. Inspired by the budding art scene emerging from a war-ravaged nation during his stay in Cambodia, prior to moving to India, Frank wished to do something meaningful in this space. "An extremely poor and broken country was finding a totally new kind of identity through the arts — amazing artists who were sometimes illiterate when it came to actual reading and writing, amazing venues springing up to accommodate them, help them, create a market for them," he says.
Inception
The relocation of 4tables Café & Art Gallery to Gunehar and ambivalent responses to economic prospects of the shuttered shops, found Frank excitedly envisioning them as potential art spaces and the whole village as host to a modern art event. The subsequent tepid response of art institutions and galleries failed to deter him and Frank instead chose to make this indifference a part of the concept of SAAS, to demonstrate the inner workings of the art infrastructure in India, and break down some of the barriers. He decided to go ahead with the first edition in 2013, entirely at personal expense. Artists were invited to participate in a month-long summer residency. For three weeks they worked out of the leased 'studios' to the part-curious part-skeptical looks and queries of onlookers. The last seven days were designated 'exhibition week' when the entire village, with its painted exteriors, walls, spaces, and installations, took on the guise of a live exhibit. By the time it ended, with a smashing performance by a local singer no less, over 6,000 visitors had delightedly made their way around the colourful swells of the hitherto unheard of Gunehar.
Art attack
The second edition of ShopArt ArtShop —partially funded by crowd-sourced money — was hosted in 2016 in collaboration with pop artist Ketna Patel and installation artist Puneet Kaushik. Of the 11 international artists who took up the residency, web designer Ksenia Bosak from Russia designed a virtual village as a means to explore Gunehar from anywhere in the world. Kiwi Sue Fitzmaurice would publish daily blogs about everyday happenings. Amrit Vatsa of 3MS visually chronicled rural life for a global audience, including a well-received short about Maniram, the gun-owning gardener.
Delhi illustrator Gargi Chandola's interplay of graffiti art with Kangra miniatures found many takers with shop owners inviting her team from Kangra Arts Promotion Society to paint their interiors. The cynosure of all eyes was Singaporean director KM Lo and his One Rupee Cinema. Ceramic artist Mudita Bhandari fashioned architectural terracotta figures with volunteering village girls. Sheena Deviah and Bianca Ballantyne of Hidden Spaces Collective enlivened dead spaces with installations. Fashion designer Rema Kumar's adaptation of a traditional Gaddi outfit for urban women was modeled by village women at a fashion show marking the grand finale. SAAS2 garnered a footfall of 10,000.
'Our mela'
Early skepticism has given way to proud ownership. "Most villagers feel very proud of the event because they are both full participants, and are also taken seriously as a public. They are proud of the attention the village gets and they call SAAS their own 'mela'. As they have seen that we have no agenda to change their basic structure, they are very relaxed, and I find that they have an astounding understanding of conceptual art by now because they see it all unfold in front of their own eyes, and with their being part of the process," Frank shares, as he busies himself with the third edition of ShopArt ArtShop slated from May 15 to June 15.
Missing patronage
Regrettably, easy funds and generous sponsors continue to elude organizers of off-piste, public art projects such as SAAS. Royal patronage, much like royals themselves, has become a thing of a long receded past. With the government unwilling or often unable to provide the much-needed fillip required by India's fledgling contemporary art scene, the relentless efforts of individuals like Frank Schlichtmann must necessarily be lauded as inspiring and noble.