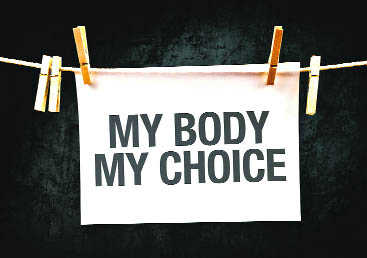 Chandigarh is a town whose residents are considered to have a modern outlook. But the volunteers of ISRD (Institute for Social Research and Development), organisers of a recent awareness-sensitisation programme about legal and safe abortions in two colleges, were in for a shock. More than 90 per cent of participants, mostly post-graduate students, believed abortion was illegal in India. This explains the silence on the issue of abortion.
Women who want information about safe procedures for termination of pregnancy feel hesitant and medical practitioners remain judgmental. The stigma around abortion leads to the death of 10 women every day as they are forced to undergo unsafe abortions.
Despite the legal sanction for abortions, and presence of medical termination of pregnancy (MTP) centres even in smaller towns, the conditions attached to the legal position have complicated the issue for the young. Apart from the requirement of filling some 15-odd forms, the legal age for abortion under the MTP Act (18 years) and the age of consent that has been raised from 16 to 18 years, has created several unforeseen complications for young women seeking abortion.
Under the Protection of Children from Sexual Offences (Pocso) Act, which deals with cases of sexual assault on minors, the age of sexual consent was raised by two years. This was done with the good intent of protecting children from sexual abuse by ignoring the changing pattern of sexual behaviour of the young. Most young men and women are sexually active before they are 18, but the attitude of service providers for safe abortions remains stereotyped. This raises serious issues for young women, especially those below the age of 18, who need access to safe abortion.
Dr Alampreet, Dr Garima and Dr Sukhmani, interns with ISRD, say schools don't want awareness workshops on safe medical termination of pregnancy, because most parents feel talking about abortion would corrupt their 'kids'. But their field study shows a different reality. Young women, even though they are above 18, prefer to search the Internet for pills and drugs for abortion when they realise they have missed a period. Their boyfriends approach the medical store to buy the pills, because the girls feel embarrassed asking for such pills. They refrain from sharing the news of their pregnancy with parents and even with other female friends, for the fear of being ostracised.
The information sought around abortions also varies for men and women. Dr Alampreet says that while men want to know about the safest contraceptive, women want to know if it's painful to undergo MTP. And, boyfriends remain judgmental about women who undergo abortion, calling them "inhuman" and "cruel".
Even 18-year-old women, in most cases, are not aware of their legal position and feel vulnerable before the service providers. The fear of being judged does not leave with adulthood, which forces them to opt for other unsafe means, risking reproductive health.
Confusing abortion with sex selection, too, has caused a lot of damage to sexual and reproductive health rights of women. Only 9 per cent of all abortions are done due to sex selection, because sex of the foetus is ascertained only after the first trimester. Under the MTP Act, 1971 (amended in 2002 and 2003), the termination of pregnancies up to 12 weeks under the opinion of one medical practitioner, and for pregnancies up to 20 weeks under the opinion of two doctors, is legal. But, in the absence of information, unsafe abortions continue to outnumber safe and legal abortions.
Since no contraceptive is 100 per cent safe, abortion will always be a necessary component of comprehensive sexual healthcare. The issues around sexual choices of women lead to stigmatisation. The cultural connotations attached to virtues around motherhood often lead to a deep feeling of shame and guilt among women who exercise the choice of aborting an unwanted foetus. In educated, urban India, women still feel hesitant to talk about the choices they make around sexuality and bodily autonomy, the choices that help them lead a healthier and more productive life.
Beliefs like "killing a life" woven around abortions, punctuated by religious and cultural factors, play a critical role in the social, medical, and legal marginalisation of abortion care worldwide. These constitute the main obstacles towards the decriminalisation, availability and accessibility of comprehensive abortion information, care and medication.
This despite the fact that in India, women got the legal right for abortion rather easily, while many developed countries still do not allow legal access to abortion. In 1971, the MTP Act was drafted mainly to use abortion as a tool for family planning. "The attitude of service providers has not changed over the period. Ironically, young women who need these services the most are stigmatised by the system, so they access some quack, or pay more than they need to because MTP is their right," says Anubha Singh, Programme Coordinator, Crea, a voluntary organisation that works in different states to raise awareness on the issue.
A number of organisations committed to women's sexual and reproductive health rights like ASAP (Asia Safe Abortion Partnership), Crea and ISRD are trying to bring the discourse on abortions out in the open.
An experience shared by an anonymous woman on the Crea website sums up the issue:
"The most excruciating part of the process was the experience I had with the healthcare system, which was terrible and extremely uncomfortable. As an independent woman, when I arrived at the abortion service provider, I felt extremely judged. After the blood test was conducted to confirm the pregnancy, instead of confirming or denying it, the staff congratulated me. Once I confided that I wanted to terminate the pregnancy, the counsellor asked me questions like 'where is your partner?' and 'why don't you have a partner?' I was quite shocked and unsettled to find that the counsellor just couldn't grasp the fact that it could be my choice to terminate a pregnancy. Although I did get the abortion, the experience left me feeling very judged and stigmatised."
"Only selfish women have an abortion" and "abortion is used as birth control" are other misconceptions that impact not only women's health, but also help in constraining women's autonomy and expression of their sexuality.
Access to safe abortion services is an important aspect of a comprehensive reproductive justice platform to achieve social justice and equality, says Pawan Kumar Sheokand, director, ISRD. He adds in the same breath, "It's sad to see post-graduates of a modern city not being aware of their rights that involve their biological autonomy."
vandanashukla10@gmail.com
Top News
Announces capital investment at Rs 10 lakh crore, PM Awas Yo...
Fully imported cars, including electric vehicles, and those ...
21 skiers were rescued from the slopes that has been declare...
In her Budget Speech, the minister also announces a new smal...
He however managed to dodge his chasers as he briskly ran of...