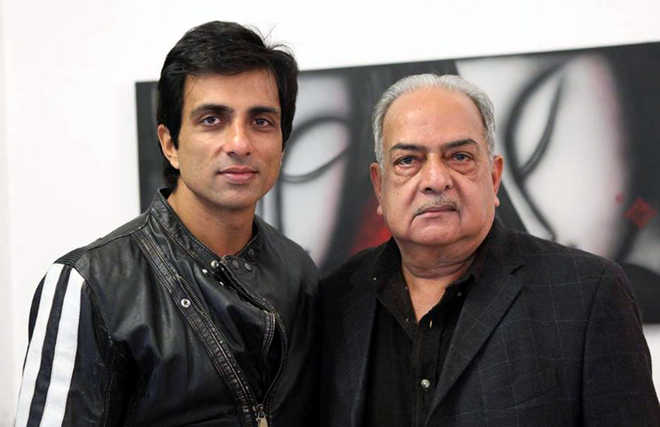 Tribune News Service
Moga, February 8
Bollywood actor Sonu Sood's father Shakti Sagar Sood (76) died following a cardiac arrest at his residence here yesterday.
He had been suffering from respiratory problems for the past four years.
Sonu was in a conversation with his father, when he suddenly collapsed and fell down from the bed. The actor rushed his father to a hospital, but doctors declared him brought dead.
Sonu, who lives in Mumbai, came to his ancestral house on Saturday after participating in the Celebrity Cricket League (CCL) match held in Mohali. The cremation will be held on Tuesday.
Sonu had lost his mother Saroj Sood nine years ago. She was an English literature teacher. Every year on October 4, Sonu organises a community kitchen in the memory of his mother.
His father was a renowned cloth merchant of the area, but had left the business after his wife's death and started doing social work. He frequently travelled to Mumbai to spend time with his son.
Sonu said he was yet to overcome the loss of his mother and now his father's sudden death had left him shattered. Sonu's elder sister Monika lives in Canada and is expected to arrive here by tomorrow morning, while his younger sister Malvika is married here.
His wife Sonali and two sons are also expected to arrive here tonight.
Meanwhile, the alumni association of Sacred Heart School, Moga, from where the actor did his schooling, has expressed its condolences over his father's death.
Top News
Situation in Sasaram and Biharsharif normal, say police
Notably, Shah's tour of Sasaram in Rohtas district has been ...
The Kabul-born Durani played 29 Tests
Bodies of eight persons were found on Friday in a marsh on t...
'Plot to impose President's rule in Punjab'