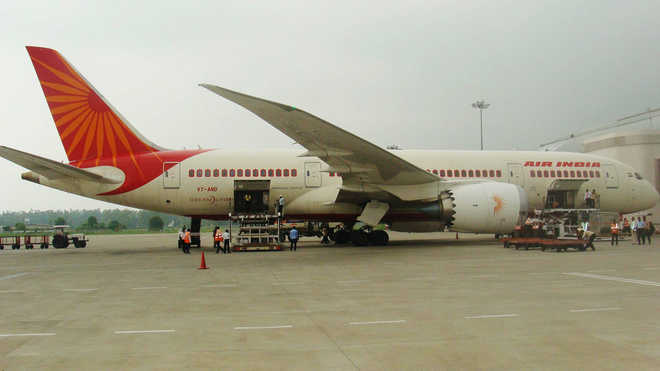 Chandigarh/Delhi, February 21
With prices for the one-hour Chandigarh-Delhi flight going beyond Rs 20,000, the civil aviation ministry on Sunday asked different airlines to operate more flights to Chandigarh, Amritsar and other destinations in northern states as thousands of people were stranded at various places with roads and railway tracks being blocked by violent Jat protesters.
The fare for Chandigarh-Delhi, which normally varies between Rs 3,000 to Rs 4,000, was being quoted between Rs 20,000-Rs 60,000 by various airlines for direct and one-stop flights via other cities.

The additional flights are:

1. Air India (21.2.16): Delhi-Chandigarh-Amritsar-Delhi flight

Departure timings: Delhi (1730 hrs) Chandigarh (1910 hrs) Amritsar (2035 hrs)

2. SpiceJet (21.2.16): (A) Delhi-Jaipur-Delhi flight

Departure timings: Delhi (1755) Jaipur (1915)

(B) Delhi-Amritsar-Delhi flight

Departure timings: Delhi (1740) Amritsar (1910)

(C) Delhi-Chandigarh-Delhi flight

Departure timings: Delhi (2035) Chandigarh (2200)

3. Jet (21.2.16): Delhi-Amritsar-Delhi flight

Departure timings: Delhi (1325) Amritsar (1525)

4. Indigo (22.2.16):

(A) Delhi-Chandigarh flight

Departure time: Delhi (2125)

(B) Delhi-Jaipur-Delhi flight

Departure time: Delhi (2140)
The above-said Air India, Spice Jet and Jet flights are for today (February 21), while the Indigo flights are for tomorrow (February 22).
Meanwhile, a defence spokesperson said the Indian Air Force has opened the Satwari Airport in Jammu for civil aircraft at night to provide connectivity to people stranded due to violence and tension in Haryana.
Railway tracks, roads blocked
The Jat community's agitation in Haryana has led to obstruction of railway tracks and arterial roads. The agitators have blocked the national highway between Delhi and Chandigarh at Jhajjar, Panipat and Sonipat. They also blocked Panchkula -Shimla highway.
Trains and buses to and from Delhi and other places have been cancelled.
Earlier, Punjab Chief Minister Parkash Singh Badal urged Union Civil Aviation Minister Ashok Gajjapathi Raju to start additional flights from Delhi to Chandigarh and Amritsar.
During a telephonic conversation with the Union Civil Aviation Minister, the Chief Minister urged him to immediately start flights from national capital to Amritsar and Chandigarh to provide connectivity to the people of the state who were completely cut off from other parts of the country especially Delhi due to widespread violence and disturbances in Haryana following the issue of Jat reservation.
Badal said a huge section of the society, especially the students, had been adversely affected, who have to appear in several entrance tests for either seeking jobs or admissions in various educational institutions across the country. Most of such examination centres were only located in Delhi, the CM added.
North-Western Raliway cancels 103 trains
The North Western Railway announced cancellation of 103 trains and diverted 22 others on February 22 and 23 in view of the Jat agitation.
The passengers are advised to check their train schedule, its CPRO Tarun Jain said.
The trains between Ajmer-Kishanganj, Ajmer-Jammu, Ajmer-New Delhi, Ajmer-Hardwar, Udaipur-Delhi, Jaipur-Delhi double decker, Jaipur-Chandigarh, Jodhpur-Delhi Mandore Express, Jaislamer-Delhi, Sriganganagar-Delhi, Bhiwani-Panipat, Delhi-Bhatinda, Bikaner-Delhi, Lalgarh-Tinsukhiya, Howarah-Jaisalmer, Hisar Gorakhpur, Srigangangar-Ferozepur and Rohtak-Bhiwani trains were among cancelled (to and fro) on February 22 and 23, he said.
Twenty-two other trains will be diverted due to the agitation. — TNS/Agencies
Top News
Police release new footage; 'Waris Punjab De' chief spotted ...
The case was filed against Gandhi for his alleged 'how come ...
Can't keep defaming people, democracy and the country and ex...
Lawyer Abhishek Singhvi discusses legal strategy with Rahul ...
In 2017, top court declared practice of instant triple talaq...