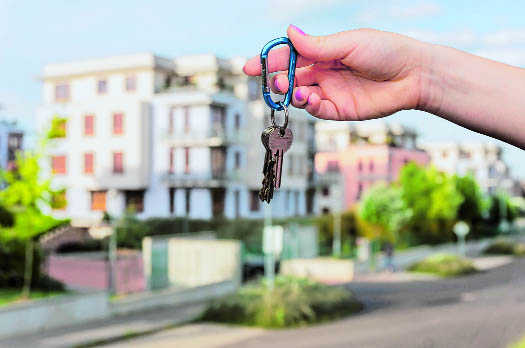 The Indian residential real estate market seems to be getting into a stabilisation mode, even as the number of new launches has gone down and affordable two and three BHK's have been in demand in the past six months.
Sales in H2 FY'16 falling by 1 per cent over H1 FY 2016, the lowest rate of fall since H2 FY'14. The prices have also remained range bound, with a nominal price increase of around 1 per cent during the same period. The possible downside risk from these levels seems to be limited in 2017, shows online real estate advisor PropTiger's 'India Realty Report' for the FY 2016.
The report shows that total sales of residential units in FY'16 dropped by 33 per cent from a year earlier – from around 3,15,000 units in FY'15 to 2,11,000 units in FY'16 – marking a third straight year of fall. Launches in FY'16 declined 46 per cent from those in FY'15, demonstrating a reduction in activity across the primary residential markets.
Affordable segment (<Rs 50 lakh) continued to command over 50 per cent in launches and 52 per cent in sales in FY 2016. The average apartment and villa unit sizes have fallen by 3 per cent and 18 per cent, respectively, over FY'14; reflecting alignment on the supply side to keep the overall unit costs in an optimum range.
The preference of consumers has been more towards the affordable size of apartments, with 1-BHK units accounting for 22 per cent in total residential sales in FY'16 (increased from 21 per cent in FY'15). The demand for 1-BHK units was mostly concentrated in cities like Bengaluru, Pune and Mumbai.
According to the report 2 and 3 BHK units continue to dominate the market. Together, these units accounted for over 70 per cent of total sales for a third straight year in FY'16. Additionally, the launch in the 1-BHK segment was more pronounced in Mumbai and Pune.
Commenting on the report, Anurag Jhanwar, Business Head (Consulting and Data Insights), PropTiger.com, said, "Consumer Centricity is taking precedence, with launches aligned to better product and customer value proposition. Amid a steady shift in the sector, developers' focus will be towards timely completion of ongoing projects and liquidating their existing unsold inventory to manage financial risk."
Top News
The Khalistan sympathiser said if the state government had t...
'Let us not be selective,' Solicitor General said while insi...
Counting of votes will take place on May 13
Deplores attempts by Rahul Gandhi to draw parallels between ...
Petitioner sought more time from the court for producing evi...