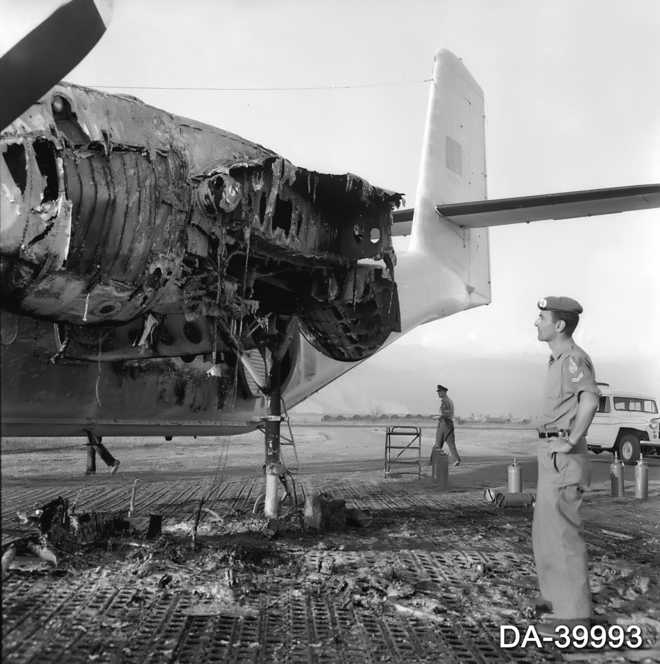 Ajay Banerjee
Epic tank battles crowd discourses, mind space and continue to hog media attention while the Indian Air Force (IAF), its pilots and ground staff have failed to get the attention it deserved.
The IAF was lagging behind the Pakistan air force (PAF) in terms of technology of that era. It had greater number of planes than the PAF but its lack of air-to-air missiles and night-flying abilities, hampered our force. The vintage IAF fleet meant nine squadrons (18 planes in each) had to be withdrawn from the front. The F-104 'Starfighter' of the PAF, was among the first planes in the world to fly at Mach-2. It had heat-seeking missiles, a radar for interception and fire control. The Indian fleet of a 12-strong MiG 21s was not fully operational or integrated in the IAF.
The PAF relied on superior early warning radars installed at Peshawar, Multan, Sargodha and Badin while the IAF was dependant on single radar unit at Amritsar for its western operations.
It was an on-the-spur decision to use the IAF. On September 1, the Army Chief, General JN Chaudhari, the IAF Chief, Air Marshal Arjan Singh, and Defence Secretary PVR Rao walked into the office of Defence Minister YB Chavan in New Delhi to decide on the IAF's role.
Just before sunset the same day, 26 fighter-bombers, including 12 Vampires of the early 1940s British vintage and 14 Mystere-IV procured from France, had taken off from Pathankot for the Chhamb-Jaurian sector.
"The IAF destroyed 10 tanks, two automatic guns and 30 to 40 vehicles of the invading column", recounts S N Prasad in his book The India Pakistan War of 1965, an authorised account from the Ministry of Defence archives.
Though the IAF had drawn first blood, the PAF retaliated within minutes. Its F-86 Sabre jets brought down four IAF Vampire aircraft. Three pilots were killed in action and one bailed out. The Pathankot base turned grim after the initial euphoria.
Pilots set the momentum
After realising that Vampires and the Ourogan's, another vintage plane, were easy targets, the Air Headquarters directed Ambala-based 23 Squadron 'the panthers' flying the Gnat fighters to move to Pathankot.
A pre-dawn briefing at Pathankot on September 3 was tense, the tactical plan was bold. Four Gnats, led by Sqn Ldr Trevor Keelor, were tasked to fly barely 100 feet above ground and at high speed. When the radar at Amritsar warned of approaching PAF planes, the Gnats zoomed up to reach 30,000 feet in less than 90 seconds. A F-86 Sabre carrying missiles showed up, Keelor opened fire from his onboard 30-mm cannon from a distance of about 450 yards and downed the PAF jet to etch his name in history and IAF folklore as the first Indian pilot to have a 'shot down an enemy plane in mid-air'. "Shooting down of an F-86 Sabre by the small Gnat had a stimulating effect on the morale of the Indian pilots," writes SN Prasad in his book. Within hours, Flt Lt VS Pathania had claimed a PAF jet. The 23 Squadron got the maximum kills during the three-week conflict. Elsewhere 'The Tigers', 1 Squadron based at Adampur and the 'Battle Axes', 7 Squadron based at Halwara were tasked to hit at military targets at Rahwali and the Lahore-Kasur area.
On September 6, the PAF chief, Air Marshal Malik Nur Khan, decided to launch pre-emptive strikes on Adampur, Halwara, Pathankot, Srinagar and Jamnagar air bases. A total of 60 F-86 Sabres and B-57s bombers were earmarked for the strikes. In addition, the F-104 Starfighters backed up. Ambala, Halwara, Adampur and Pathankot, all in Punjab, housed nine IAF fighter squadrons among these, amounting to 160-odd planes.
At Pathankot, the IAF lost six Mystere IV-A, two MiG-21s, 10 Gnats and one Packet transport aircraft — all caused by PAF's 19 Squadron. Raids on Halwara and Amritsar were a disaster for the PAF. Flying Officer Adi Gandhi with Flying Officer PN Pingale were hit by the Sabres and both ejected. But Gandhi had also hit a Sabre. Two other Sabres were intercepted and brought down by Flt Lt DN Rathore and Flying Officer VK Neb, the latter was still under training. At Amritsar, anti-aircraft guns brought down a PAF bomber and the raid was aborted. A MiG-21 was lost and another one got damaged at Adampur while Jamnagar was raided six times by the PAF destroying four IAF Vampires. IAF shot down one bomber.
Separately, an unusual attempt by Pakistan to destroy IAF aircraft and airfield installations failed. Paratroopers of the Special Services Group were air-dropped at night near Pathankot, Halwara and Adampur. Of the 180 Pakistani commandos, 136 were taken prisoners, 22 killed and the rest managed to escape back.
Counter-strike
At the PAF's Sargodha base, which had 64 Anti-Aircraft (AA) guns and was best defended, IAF pilots carried five raids.
The first strike on Sargodha was mounted by a team led by Wg Cdr OP Taneja. Flying the Mysteres of 1 Squadron at Adampur, the team made the audacious low-altitude run on Sargodha in broad daylight and strafed 7 PAF Sabre's.
Apart from Sargodha, IAF attacked Chaklala and did an impressive raid on Peshawar. The Raiwind railway yard and a train was destroyed, Pakistani armoured columns at Kasur, Sailkot and Chhamb were attacked.
Flt Lt Vinod 'Jimmy' Bhatia (who later retired as Air Marshal), based at Adampur then, recollects, "We were ready to take on the PAF anytime. Just a year before this, I had flown the Sabre in the US." Bhatia was among the pilots, who attacked enemy tanks and gun positions in the Kasur-Lahore sector. Looking back, the IAF attack on Peshawar airbase, where the PAF had moved a bulk of its forces, tested nerves. IAF planes had a limited range. However, an audacious plan was put together, six Canberras flying at an altitude of 1000 feet, ripped across Pakistan in the dead of the night. The team led by Sqn Ldr JC Verma bombed the runaway and all six returned despite the PAF firing away.
Pak pilot's tale gets MVC for IAF pilot
The raid on Sargodha holds a story. PAF's Flt Lt Amjad Hussain and the IAF's Sqd Ldr AB Devayya were locked in an intense dog fight. Devayya and Hussain hit each other's planes. Hussain bailed out, Devayya could not and went down with his Mystere-IV, taking his act of gallantry to his grave. The mystery unravelled in December 1971 India-Pakistan War when Amjad Hussain was again shot, this time over Amritsar. Now a Prisoner of War (PoW), Hussain recounted the mid-air episode that had occurred September 7, 1965, and lavished praise on the IAF pilot. After Hussain's account Sqn Ldr Devayya was awarded a Maha Vir Chakra posthumously January 26, 1988, 23 years after his effort.
IAF's role in Khem Karan
Even during the epic tank battle at Khem Karan, or the Battle of Asal Uttar, the IAF played an important role. The Pakistani tank reinforcements were cut off as Wg Cdr William Goodman's formation destroyed 26 tanks on a train and Flt Lt Tirlochan Singh 'Tango' claimed another eight. The Mystere IV-A fighters, based at Pathankot, had a potent anti-armour rocket pods with 38x68 mm hollow-charge rockets that pierced through the armour plating and exploded inside the tank.
Despite the fact that this was the first-ever war where an unprepared and technologically inferior IAF had been involved in aerial combat, its men fought heroically. The IAF had a haul of four Maha Vir Chakras (MVC), one Bar to MVC and 44 Vir Chakras (VC).
---
Read more in '50 Years of 1965 War' special: